From plastics and microplastics in the ocean to chemical spills and destruction of marine habitats, you don't have to look far to find the effects of human activity on our seas. The effects of business and consumer lifestyles are readily apparent, and action is needed if we are to reverse the degradation of marine environments. However, to ensure that action has the greatest impact – as quickly as possible - there is a need for greater understanding of just how human life is impacting our blue planet.
The Ocean Disclosure Initiative, recently launched by the One Ocean Foundation and its partners, seeks to provide this very understanding. This science-based framework for information disclosure around ocean sustainability is being created to support the international business community to reduce their impact on our oceans.
And action can't come soon enough. Covering over 70% of the earth's surface, the ocean has an enormous impact on all the systems of our planet. Our oceans produce over half of the world's oxygen, transport heat, regulate our climate and influence our weather systems. In other words, the potential consequences of inaction when it comes to ocean sustainability are huge.
That's why even businesses operating far from the coast need to understand that their actions affect oceans thousands of miles way. For example, an estimated nine million tons of plastic waste end up in the sea each year. Most of this originates from land activities and is transported to the sea by sewers, rivers, winds and tides. Alongside plastic pollution, the oceans suffer from increasing chemical pollution and overfishing that disturbs the delicate balance of biodiversity found in marine ecosystems.
Connecting businesses with the ocean
So how can the Ocean Disclosure Initiative help? Described as ground-breaking by many, this initiative has created a science-based framework and methodology that companies can use to assess and disclose their impact on the marine environment. Based on this information, businesses, investors, states and regions all over the world can see the impact of activity on the oceans. And they can use this knowledge to create awareness, take action and not least invest in companies that work to protect the ocean environment.
At Bocconi University in the Italian city of Milan, Stefano Pogutz understands better than most the challenges inherent in connecting business and the oceans. As President of the One Ocean Foundation Scientific Committee and Professor in Corporate Sustainability, he has seen the lack of awareness of ocean sustainability first-hand.
"There is lots of research happening around climate change but very little on ocean protection. In fact, there is almost zero on disclosing information on this point. If you look at the UN's Sustainable Development Goals, goal number 14 addresses life below the water, yet this is the least addressed goal by companies."
Stefano Pogutz goes on to emphasise the role of the business community as drivers for change. "Not only does awareness in a business lead to change in their business model, but the effect spreads throughout the supply chain. This can have a much greater effect than relying on individual behavioural modifications to drive change."
Transparency is the start of change
The Ocean Disclosure Initiative sets out a set of standard guidelines and metrics for disclosing corporate information about ocean sustainability. These have been designed with the involvement of scientists and experts from a broad range of ocean-related ecologic disciplines. The result is a proposed framework that covers marine biodiversity and biological integrity, marine water quality and sea-food integrity alongside business metrics including governance and policies.
With these common reference points, the business community can engage with other stakeholders on ocean sustainability and be a force for good – raising awareness and influencing their business partners, suppliers, customers and investors. What's more, faced with the ongoing scrutiny of a company's Environmental Social Governance policies, the Ocean Disclosure Incentive provides a way for businesses to take action that can be documented and recognized.
Founded in research
The Ocean Disclosure Initiative was started in 2019 as part of the multi-year research "Business for Ocean Sustainability". Today companies in the textile and apparel industry are already working with it.
Recently ROCKWOOL and the Denmark SailGP Team joined forces with the One Ocean Foundation and unveiled a science-based partnership focused on accelerating solutions to protect and regenerate the ocean. One of their first initiatives is to analyse, track and reduce the carbon and plastic footprint of the Denmark SailGP Team presented by ROCKWOOL. Nicolai Sehested, driver of Denmark SailGP Team presented by ROCKWOOL, explains: "We hope that our partnership with One Ocean Foundation will help us to set a new standard in sports by significantly reducing our footprint, using science to drive positive impact, and inspiring others to take action."
In the coming years, the initiative plans to expand to even more industries and ultimately be used by businesses across all sectors all over the world as a standardised tool.
As our health, wellbeing, social and economic development depends on our oceans, it becomes paramount that a sustainable ocean economy is in place. The images of distressed marine life we see in the news are just one aspect of the damage we are causing. If we want future generations to marvel at the wonders of the sea, change is needed. And information disclosure is one way to make this change happen.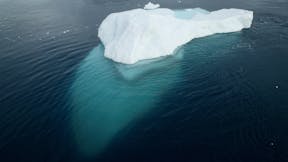 More sustainability stories
Check out how initiatives like this one is changing the world - one idea at a time!