It's quite incredible to think that a tiny bird weighing as little as 20 grams can fly over 300 kilometres each day on its journey south for winter sun. Places like the old saltpan marshes of Salina La Esperanza just outside the city of Cádiz have always been essential resting places for these migratory birds. However, as the salt industry collapsed in the 1970s so did the number of birds and La Esperanza, one of the most valuable coastal habitats in the region, was close to disappearing.
Bringing the marshes back to life
Alejandro Perez-Hurtado, Director of Central Research Services in Salinas from Càdiz University was the first become part of the project to revitalise La Esperanza thirty years ago. Back then there were few birds to be seen. Traditional salt production had all but disappeared as fridges to preserve food and cheap foreign salt flooded the market. "The water was not moving and the marshes were dead," he says, thinking back to when he first got involved. However, with the support of the University of Cádiz, international funding and the involvement of an army of local volunteers, Salina La Esperanza has undergone a transformation. Today the 39 hectares of the saltpan marsh area is once again is a hotbed of activity – and home to numerous birds.
Preserving culture – with salt
But before we get to birds, let's look at salt. Salt production has always been an important industry in Cádiz, with local salt highly prized for cooking and food preservation – and critical for attracting birds. That's why reviving traditional salt production was a key part of bringing Salina La Esperanza back to life. Essentially, as the salt marshes flood at high tide, the man-made basins fill up with saltwater – as well as molluscs, crustaceans and algae for the birds to feed on. Then as the heat of the Spanish sun causes the seawater to evaporate, sea salt is left behind ready to be collected. When the project started, there were just a handful of people in the area who were able to remember the traditional methods of salt production. This made it even more important to collect this living history.
New ideas generate investment
Alongside the traditional salt production, the area is now also home to a number of other research projects including aquaculture and the production of large-scale microalgae. Microalgae are a rich source of carbon compounds and have a wide range of uses such as in biofuels, health supplements and wastewater treatment. In a city where the unemployment rate is close to reaching 25 percent, these projects have the potential to attract highly valuable future industrial development and investment in the region.
And while the researchers look into future business opportunities for Cádiz, the saltpans are now attracting birds once more. Thirty years ago, there were just five nests that were home to Kentish Plovers. Today they are well-established throughout the area, as are nesting osprey, black storks, sandpipers, flamingos and great cormorants. And hot on the heels of these many birds are bird lovers, or twitchers as they are affectionately known. But if a day in a hide behind binoculars is not your idea of a great day out, the beauty of the tidal marshes cannot fail to impress – as increasing numbers of nature-loving tourists are discovering.
What's more, taking a wider perspective, the revitalized saltpans are a critical part of the city's response to climate change. As Alejandro Perez-Hurtado explains, "The marshes are a boundary between the sea and the city so if we can manage these saltpans and keep them in good condition, we can decrease the effects of climate change. We've seen how over the past ten years, the size of the tide has increased. These intertidal areas are key to managing this and maintaining biodiversity."
A community effort
Today the project is well established and the salt pans are now starting their journey towards self-maintenance. Salina La Esperanza is a testimony to the hard work, enthusiasm and passion of the local community in Cádiz. Many of the people who use the area for an evening stroll or a kayak trip have also been volunteers, carrying out tasks such as repairing the sluice-gates and controlling water depths. In doing so, they have rekindled a love affair with the local birds and wildlife that many local environmentalists had feared were gone forever.
So if you happen to look up and see a flock of birds flying overhead, perhaps taking a rest on a telephone wire, spare a thought for the hard work and commitment of Alejandro Perez-Hurtado and the citizens of Cádiz. Their dedication has turned the saltpans of Salina La Esperanza once again into the thriving natural haven these migratory birds need on their long journey south. And in the process, they have created an area of incredible natural beauty for residents and visitors to Cádiz alike.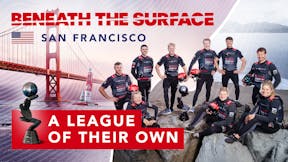 Beneath The Surface
Go behind the scenes with Denmark SailGP Team as they fight for the most sustainable accolade in sports - SailGP's revolutionary 'Impact League'.
Discover more Beneath The Surface
Innovation is a product of curious minds, good data and ambitious goals. Without it, we couldn't achieve what is required to create a more sustainable future - Or, indeed, to win races. But the innovations that make it possible to really lower the world's emissions and make it possible to sail 100kph in a 50ft sailboat rarely get the credit they deserve. They are hidden beneath the surface – inside walls, hulls, materials, computers and minds. We want to put what's beneath the surface in the spotlight.