Nine teams – including Denmark SailGP Team presented by ROCKWOOL – make up the SailGP fleet, racing at speeds approaching 100km/hr in venues around the globe.
But it is the final race of the league's third season that will draw the most attention.
The SailGP Grand Final is a 12-minute, all-or-nothing shoot out like no other. Three teams, one race, and $1 million on the line.
Australia, New Zealand, France and Great Britain are the teams vying to be crowned on-water champions – but as sailing's most decorated fleet heads to the Golden state, there is another trophy up for grabs.
A prize that focuses less on that 12 minutes on the water, but the other 23 hours and 48 minutes in a day.
Introducing: the Impact League. Now, sailing's best teams are rewarded not only for their racing performance, but their efforts in all areas of team operations – from travel, to energy use, community engagement, diversity and inclusion, and collaboration.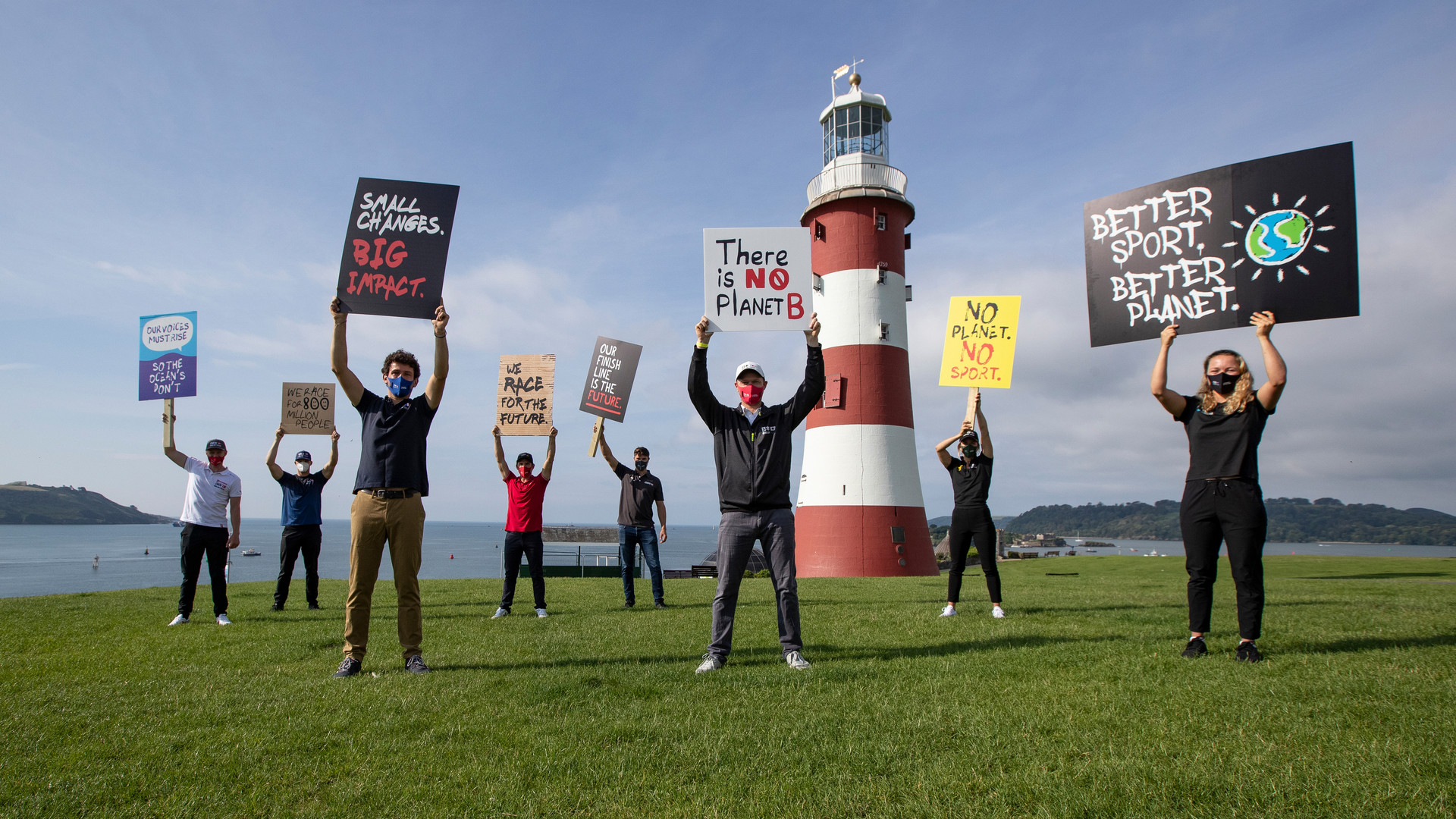 Athletes representing the national teams in the SailGP league highlighting the climate change threat to oceans, and how the SailGP Impact League is part of the solution
It's an initiative the likes of which has never been seen in sport, and as the league heads to San Francisco, two teams – New Zealand and Denmark – are leading the hunt for the victory.
"The Impact League is really important to us," explains Nicolai Sehested, driver of Denmark SailGP Team – currently in second place, and looking to unseat leaders and current champions, New Zealand SailGP Team.
"As Danish sailors, sustainability is in our DNA – but being part of a competition really incentivises the process for us. We are all super competitive, and all of the teams are challenging each other by continually innovating and pushing the boundaries of what is possible."
He adds: "We're proud to be able to make a difference, with the expert guidance and support of our partners, ROCKWOOL and One Ocean Foundation."
Taking fans behind the curtain
Life inside a professional sports team has long been shrouded in mystery. Until recent years, the drama began and ended on the field of play – and everything else was a closely guarded secret.
But today, reality sports shows such as Netflix's Drive to Survive, Amazon Prime's All Or Nothing series, alongside SailGP's own Racing on the Edge, give us a unique insight into what really goes into building – and maintaining – a modern-day global sports operation.
These entities, travelling the world to compete in elite level competition, are far bigger than just the athletes wearing the jersey – they're backed by teams of expert staff, marketing gurus and sports psychologists.
A small part of the Denmark SailGP Team members that are staying 'behind the scenes'
Not to mention global brands, such as ROCKWOOL, who launched the Danish team back in 2019.
"For us, the Impact League is a way to show who we are off the water, what we stand for, and to make an impact far bigger than sport," says Denmark SailGP Team grinder Hans-Christian Rosendahl.
"At the beginning of Season 3, we sat down as a team and shared ideas about how we could optimise our operations to be more efficient, plus reduce our footprint," he continues.
"We identified multiple areas where we could make small changes – marginal gains – which might add up to a much bigger positive impact."
He continues: "In that way, it's not different from how we approach racing on the water. It's about analysing what you have, finding opportunities to improve, innovating and executing."
The Impact League is split into several key criteria, but one of the biggest areas for teams to score points is in driving forward longer-term technology and innovation projects.
"We really enjoy the project work, as we are able to take an idea from scratch and accelerate it into something tangible, that can often deliver much bigger impact," adds Rosendahl.
"For instance, one of our large projects for Season 3 has been to innovate a new way of adding heavy tape to our boat. This tape is necessary to keep the elements of the boat together, but features strong glue which sticks to the boat and requires at least four cans of toxic adhesive remover, plus around 15 man hours per event, to remove, every event."
He continues: "By experimenting with different solutions, we found that adding a single layer of primer tape before the insignia tape absorbed almost all of that residue, removing the need for a clean-up. It might not sound like a lot, but scaled up across a 12-event season, and by a nine-boat fleet, we're talking about more than 500 cans of adhesive remover saved, plus over 2,000 man hours."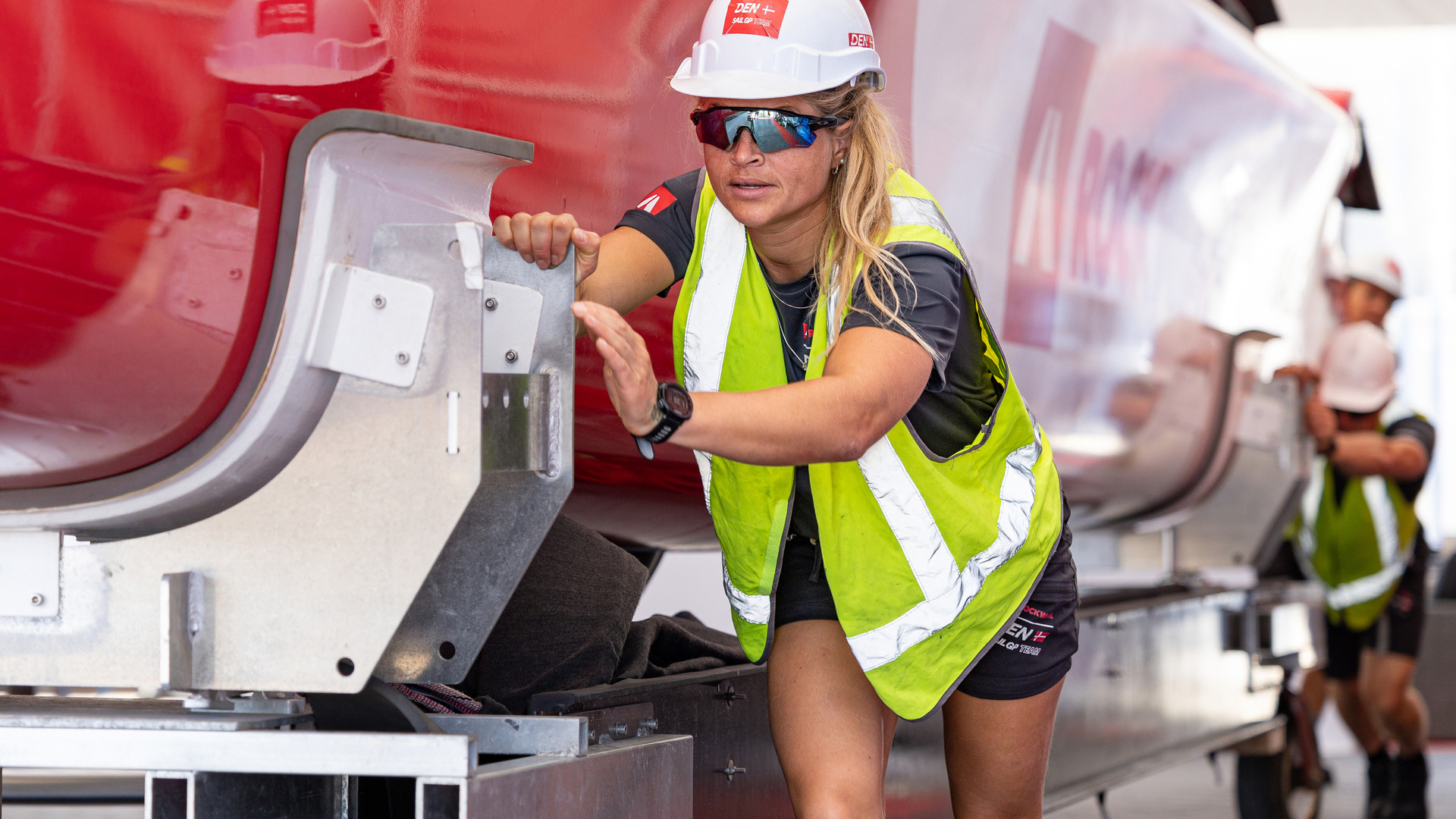 Denmark SailGP Team's Strategist Katja Salskov-Iversen at the tech site preparing the F50 catamaran to go into the water.
It's these small innovations which the teams, who spend up to 12 hours per day on the team base during event weeks obsessively working to improve performance, can accelerate in surprisingly short periods of time.
"The beauty of the Impact League," adds Rosendahl, "is that it's about doing the small things well – things that we can all do in our own life. It doesn't have to be big shiny new technologies or multi-million dollar budgets - just good waste management, making better choices, and adopting small habits."
Creating value through positive impact
Deloitte's annual Millenials and Gen Z survey found that less than half of those surveyed saw business as a 'force for good'. It also revealed some of the biggest concerns amongst those surveyed was the climate crisis, inclusion and equality.
As such, global brands are searching for more than just a traditional sports sponsorship – they're looking for partnerships with purpose.
In a world driven by sponsorship, the commercial benefits to sports teams in expanding their identities and focus to include purpose are clear – but it has to be authentic, explains ROCKWOOL Senior Vice President of Marketing, Branding and Communications, Mrella Vitale.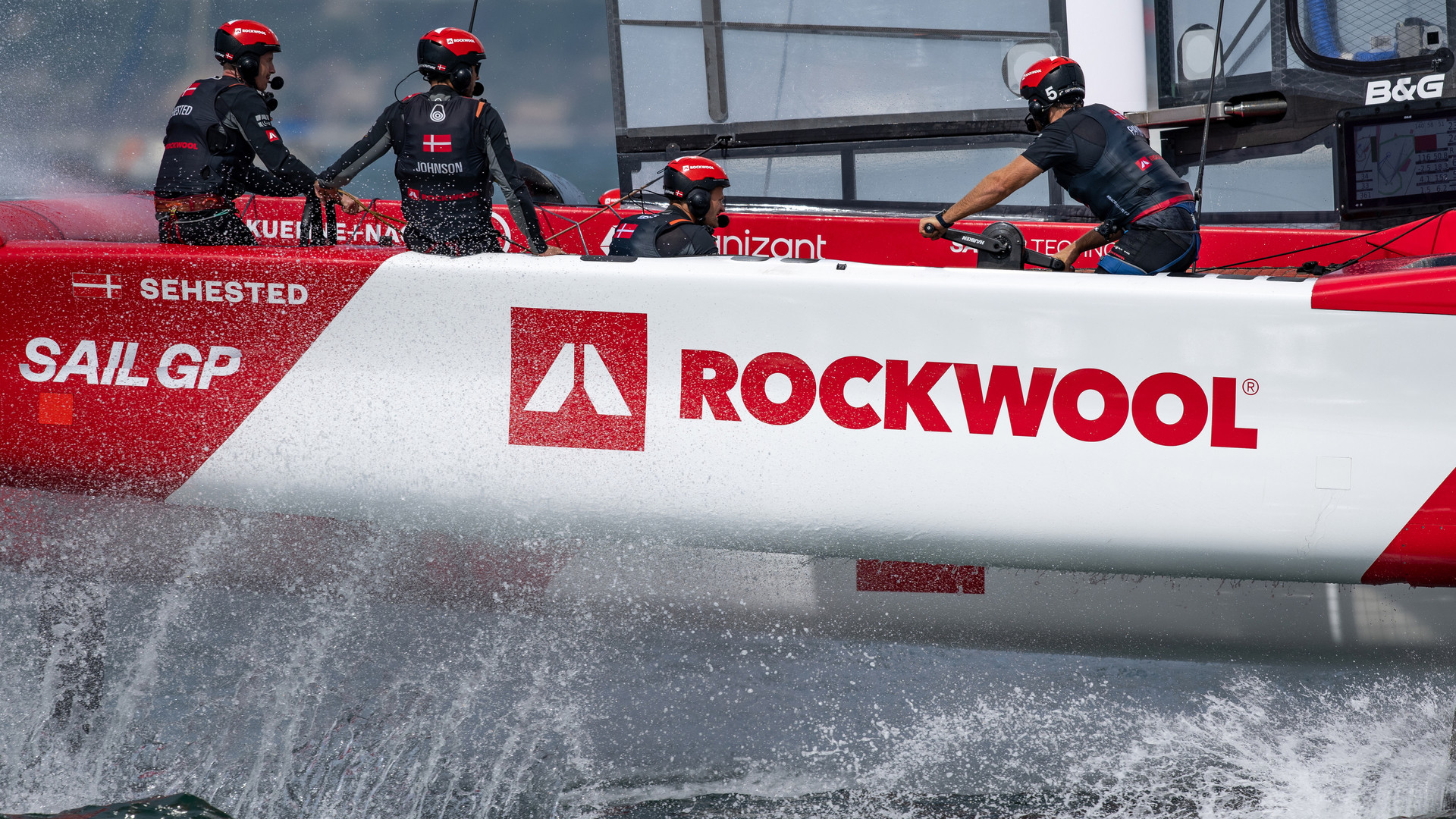 Close photo of the Denmark SailGP Team 'flying' over the water during the Cadiz Sail Grand Prix
"SailGP is a perfect fit for ROCKWOOL because it aligns some of our key values – sustainability, innovation, performance," she says. "These are characteristics of our products, and reflect the way that we approach the world of business."
"What's interesting about a league like SailGP is that it's essentially still a very new, but agile and ambitious platform. That can act as a pace setter, even for a global business like ROCKWOOL."
She adds: "I think that the corporate world could learn a lot from the urgency of sports, and the mentality and intensity of the athletes. Take these Impact League audits for example – most corporates, even some of the most sustainable businesses in the world such as ROCKWOOL, are audited once or twice a year at most.
"However, the Denmark SailGP Team and other SailGP teams are audited every three to four weeks, so there is no time to waste when it comes to innovation and driving change across team operations."
As Denmark SailGP Team lines up for the SailGP Grand Final in San Francisco, it does so knowing that there is much more on the line than just glory on the water.
The team – alongside ROCKWOOL and One Ocean Foundation – sits just a single point behind current Impact League champions New Zealand after 10 events, and is firmly focused on taking the win in the trophy's sophomore year.
"It would mean a lot to me to win the Impact League – It's fun that it's a competition, and I love it in that way," adds Rosendahl. "But we also know that the best way to make an impact is to do it together, and all of the teams have done a great job prioritising and driving change this season."
"I think that the league has changed my perspective on sustainability – hopefully it will continue to do that for all the other athletes, and the fans of SailGP."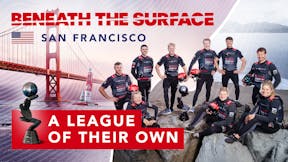 Beneath The Surface
Go behind the scenes with Denmark SailGP Team as they fight for the most sustainable accolade in sports - SailGP's revolutionary 'Impact League'.
Want to learn more about SailGP?