Set in a sheltered bay, Saint Tropez' famous Pampelonne beach sparkles with white sands and turquoise seas. Exclusive beach bars are speckled along the coastline, serving as a playground for the international jet-set. But the existence of these beach bars depends on special permits managed by local authorities, and one of the significant considerations for each permit is the impact that the space has on its surrounding environment. Iconic institutions versus sustainable, seasonal structures, the fate of these beach bars is splitting the waters in this beautiful coastal hotspot .
Protecting the beauty of the beaches
Our story starts in 1986, when legislation was adopted in France which stated that all beaches should be for public use and that there is no such thing as a private beach. Not only that but the public should also have access to the sea without anything that does not naturally occur on the beach blocking their way. This was followed by a government decree in 2006 which stated that everything related to the beach bars and other commercial establishments, including tables and parasols, needed to be disassembled and removed at the end of the season to allow the beach return to its natural state. In some cases, this meant that buildings should be demolished as soon as their permit ends, irrespective of whether they had planning permission when they were initially constructed. Some beaches have also been re-categorised as 'remarkable places', and in these cases, no construction whatsoever is allowed.
To ensure visitors can still enjoy beach bars and other commercial services on the beach, local authorities are empowered to make exceptions for temporary beach installations, and can grant permits for a specific timeframe. But the establishments need to close at the end of the season and to dismantle completely to allow the beach and the environment regenerate.
Shaking up Saint Tropez' social scene with eco-friendly, dismantlable bars
Just before the pandemic hit, eight long-standing beach bars were closed on Pampelonne beach – institutions that had attracted loyal clientele for decades. Although locals and visitors alike were sad to see these iconic venues close their doors for the last time, five new beach clubs opened in their place, bringing new glamour to the St Tropez social scene.
It's a move that's sparked much debate in the region, with many locals supporting the sustainable approach to preserve their beaches, but questioning whether the execution of the plan could see the iconic stretch of sand lose its identity and appeal, and some suggesting that the reduced local service for beach-goers in winter months could result in increased pollution and waste on the beach.
Although Pampelonne beach is arguably the most well-known and beautiful beach connected with Saint Tropez, it actually belongs the neighbouring town, Ramatuelle. It was here that the local authorities decided to close the older bars, their decision based on concern for their beach and the fragile coastal environment. The new beach bars are eco-friendly and are completely disassembled between November and February to allow the beach area to recuperate. Now that the number of bars have been reduced to 23, 80 percent of Pampelonne beach is untouched and without any construction.
Building with respect for the surroundings
Preserving the environment is vital for a resort such as St. Tropez, where natural beauty is an important part of its global appeal. But for some, demolishing iconic clubs is an extreme step to take, as is ruling that any new construction needs to be continuously assembled and dismantled each season. Building sustainably, to last, and with respect to the surroundings is an approach that other resorts have taken. By choosing building materials that leave a smaller environmental footprint and require minimal maintenance, it is possible to construct attractive, safe spaces that holiday makers can kick back and relax in – all while respecting the beach environment.
The Saint Tropez beach bar controversy is certainly dividing the local community and sending waves even further afield. Some see it as a necessary step to preserve their beautiful beaches, whereas others believe that demolishing iconic clubs is an extreme step to take, as is ruling that any new construction needs to be continuously assembled and dismantled each season. The town's most famous resident, Brigitte Bardot, describes herself as being "shocked and very sad" at the changes in her hometown.
But no matter what you think about the regulations, the bars on Pampelonne beach have become an interesting case of designing for disassembly – and, in their case, reassembly. It remains to be seen if projects such as these ultimately have a positive effect on the surrounding beach and local marine life, but constructing more consciously is key to leaving a world for future generations to enjoy.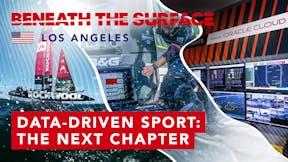 Beneath The Surface
Go behind the scenes in LA with ROCKWOOL Denmark SailGP Team as they discover how the tech-driven sport of SailGP is unleashing the power of data

8 facts about the circularity of stone wool
Twenty five percent of the world's water and 40 percent of its resources are used by buildings, while creating one-third of all waste and 40 percent of global carbon emissions. We all have a part to play in protecting the environment and our planet. By selecting sustainable and circular construction materials, we can save energy and resources, and limit waste. That's why our products are circular by nature.