SailGP has announced a clear focus on accelerating changer towards a cleaner and more inclusive future with a newly-launched initiative: Race For The Future.
The initiative, which sees SailGP set a new standard as the first climate positive sports and entertainment property, will deliver actions and innovations to advance the global adoption of clean energy. Underpinning the plan is a diversification of the league, with the goal of immediately progressing gender and racial inclusivity.
Having postponed Season 2 due to the pandemic, SailGP is building on the foundations it set in year one when it launched a gender-balanced youth and community outreach programme – SailGP Inspire – and set the initial goal of winning the race to zero carbon.
From intention to action
SailGP CEO Sir Russell Coutts said: "We have a responsibility and a purpose that goes beyond our compelling entertainment proposition. Sustainable development is paramount to the world's future, and through SailGP, we have a unique platform to accelerate change.
"Race for the Future takes us from intention to action, with a real ability to effect environmental and social transformation within and outside of the sport."
"Simply put, having a zero-carbon footprint and a diverse staff is not enough; we've challenged ourselves to think bigger and broader. These issues go beyond SailGP, beyond the sport and beyond the industry, and we will strongly advocate for the critical adoption of clean energy, while serving as champions of inclusivity."
Accelerating change
SailGP will harness clean tech, drive innovation through networking labs and inspire action amongst fans, partners and stakeholders.
Clean Tech

– using its own research and design capabilities to develop, test and bring to market sustainable innovations.

Innovation Lab –

bringing together partners, stakeholders, thought leaders and change makers to collaborate, facilitate and showcase advances in clean tech innovations.

Inspire Action

– F

rom grassroots youth program

me

s to consumer campaigns,

SailGP

will look to inspire action among its audiences, partners

and fans u

sing its global events, social, digital and broadcast platforms

. I

n addition, 10,000 young

people will be educated about sustainability through

SailGP

Inspire in event host cities.
ROCKWOOL Group CEO Jens Birgersson said: "Sustainability is at the heart of our business at ROCKWOOL Group, and SailGP provides us a global platform to raise awareness, showcase sustainable solutions and share our optimism around today's sustainability challenges, especially in urban environments."
"We believe that a more sustainable future is possible, and that, together, we can accelerate change, drive innovation, and inspire current and future generations to take action."
Setting a new sustainability standard
SailGP will become the first climate positive property, going beyond a net zero carbon footprint in all business and event operations. To achieve this, SailGP will drastically reduce its carbon output and invest in projects to eliminate more than the remaining emissions, ultimately creating an environmental benefit.
SailGP will track and verify its carbon emissions through a partnership with One Carbon World, a global resource partner of the UN Climate Neutral Now Initiative.
Nicolai Sehested, helmsman of Denmark SailGP Team, said: "SailGP's global platform is a massive opportunity to accelerate change and shine the light on key issues facing our environment."
"All of our Denmark SailGP Team athletes are passionate about our planet, and it's really exciting that as a league SailGP can combine incredible racing and cutting-edge technology with a clear focus on the urgent need for change using Race for the Future."
Three of SailGP's primary activity areas – on water, onshore and in cities – have been identified to reduce the league's carbon footprint. In each area, SailGP is partnering with like-minded and innovative companies to fully transition to clean energy solutions.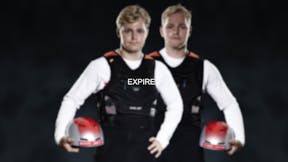 Train with the twins
Team ROCKWOOL Racing twins Lars-Peter and Hans-Christian share their workout so you can stay in shape no matter where you are!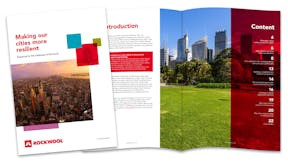 Making our cities more resilient
Urban resilience is a city's ability to bounce back after experiencing hardship. Many of the world's major cities are leading the fight against climate change, but increasing resilience goes further than just preparing for a natural disaster. We deep-dive into what resilience really means for cities!