The France Sail Grand Prix will see the eight teams do battle in one of Europe's most prestigious yachting destinations, and ROCKWOOL skipper Nicolai Sehested is confident that a first ever race win on home waters can spur the Danish team on to more success in Season 2.
That victory kicked off the ROCKWOOL Denmark Sail Grand Prix in style last month, and came following a host of podium places as the newcomers made progress through the fleet in the first events of this season.
"We're delighted to have taken our first ever race win in front of our fans in Denmark, it was the perfect place to tick off such a big moment for the team, and for ROCKWOOL," said Sehested.
"To race in such an amazing atmosphere is something that we'll never forget, and it's a shame that we couldn't get the points to make the final race – but it is coming, soon."
He adds: "As they say in sport, you're only as good as your last result, so it's important that we continue to progress now that we've got our big event out of the way – starting with Saint Tropez this weekend."
The fleet heads to France with a new rival watching the action, after the announcement that a ninth entry – Switzerland SailGP Team – will join the action in Season 3.
The Swiss SailGP Team will compete in the next three seasons of the SailGP league starting in May 2022, and has already begun its introduction to the league, attending events in Season 2 as observers.
Just as Denmark SailGP Team presented by ROCKWOOL this year, the team's aim is to get up to speed with the class in the first season and get used to the new boat, before competing against the best SailGP teams and clearly aiming for top performances.
"I think it's fantastic news that we have even more competition in SailGP," said Sehested. "We are all here for the same reason – to race against the best, and to one day win SailGP. If teams think they can challenge, then they absolutely should."
He concluded: "I think we are showing that, with the right support, it's possible to get up to speed quickly and start challenging the more experienced teams, even in a competition as fierce as SailGP. We're looking forward to seeing the Swiss on the water."
To watch all the action from France Grand Prix in Saint Tropez on September 11-12, head to sailgp.com/watch to see how you can follow from your market.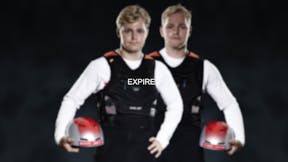 Train with the twins
Team ROCKWOOL Racing twins Lars-Peter and Hans-Christian share their workout so you can stay in shape no matter where you are!