The Danes, with skipper Nicolai Sehested at the helm, got off to a good start and battled all the way to the finish to narrowly edge the first ever SailGP race in Danish waters.
"Winning our first race in front of all of the Danish fans is a dream come true," said Sehested. "We promised to put on a show for the Danish fans, and what a way to kick off this weekend!"
"We are of course delighted to get our first victory on the board, but I wouldn't say we're surprised… we've felt it coming for a while. We've been sailing well and pushing some of the more experienced teams in the last few events, and after a lot of hard work and patience, it's great to see it finally come together on home waters."
The Danes ended the homecoming Sail Grand Prix in sixth place overall after challenging and random conditions on Race Day 2 caused frustration in the fleet.
A fantastic venue
"Aarhus is known as a fantastic sailing venue, but also a very challenging one at times, and we got to see and feel that today," said Sehested on Saturday.
"With light winds, it wasn't perfect conditions for these large F50s, and it made the racing very tactical, but you also need a bit of luck to find the right gusts," he added.
Australia SailGP Team took the overall victory after a fierce match race with Great Britain SailGP Team and Japan SailGP Team in front of thousands of fans on Aarhus Bay.
"We are still improving every time we get on the water, and we are seeing that we can mix it with the best teams in SailGP, so that's really pleasing. If we keep on this trajectory, it won't take long before we're in the final match race," said Sehested.
Final rankings in ROCKWOOL Denmark Sail Grand Prix | Aarhus:
Australia SailGP Team
Japan SailGP Team
Great Britain SailGP Team
USA SailGP Team
New Zealand SailGP Team
Team ROCKWOOL
Spain SailGP Team
France SailGP Team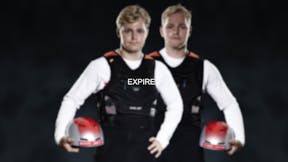 Train with the twins
Team ROCKWOOL Racing twins Lars-Peter and Hans-Christian share their workout so you can stay in shape no matter where you are!