That's the challenge facing the ROCKWOOL Denmark SailGP Team as the foiling fleet returns to Europe – with the breathless action set to kick off in Saint-Tropez on 9-10 September.
With a quarter of this season's points up for grabs between now and mid-October, the teams know that if they head into this portion of the campaign with the wrong strategy, their season ambitions could be over before they even began.
With two exciting United States events in Chicago and Los Angeles already under the belt, SailGP's fourth season moves into an exciting new phase this month with the return of the high performance global circuit to Europe where the 10 international teams will take on three events in the space of just six weeks.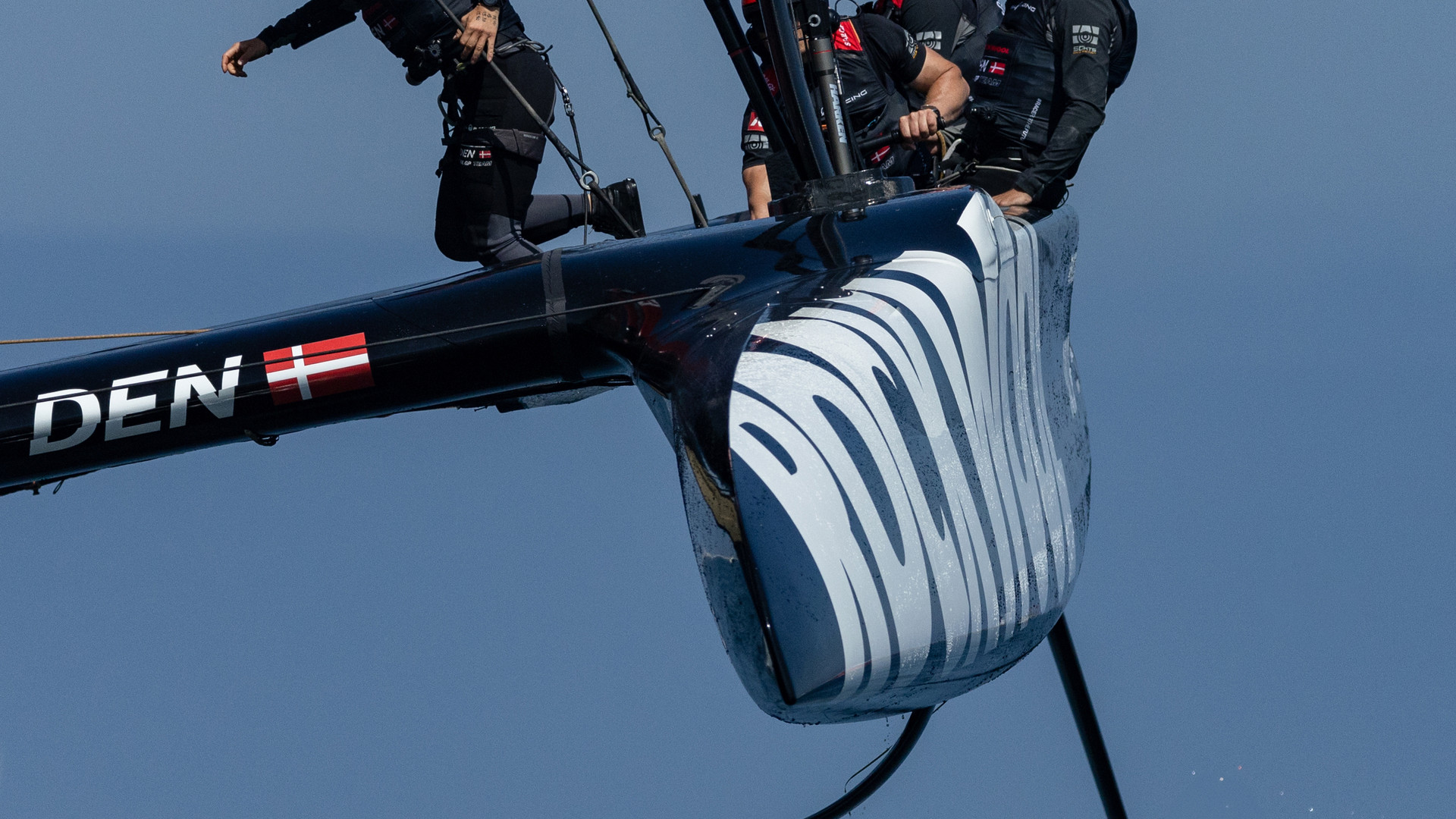 Close up image of the ROCKWOOL Denmark SailGP Team foiling above the water during the Los Angeles race in July 2023
The first stage of this intense European triple-header sees the fleet head to the south of France to revisit Saint-Tropez over the weekend of September 9-10. This glamorous Mediterranean venue last year delivered one of the windiest days of racing ever encountered in SailGP that saw the SailGP crews on the edge of control as they pushed their foiling F50 catamarans to record-breaking speeds.
Just two weeks later the SailGP bandwagon moves on to southern Italy for the ROCKWOOL Italy Sail Grand Prix in Taranto on September 23-24, where last season a spectator boat fleet of around 900 boats took to the water to get a close up view of the high-speed, high-stakes racing action.
From there the focus switches to the southwestern Spanish city of Cadiz for the Spain Sail Grand Prix | Andalucía - Cádiz on October 14-15. This is another venue with the potential to produce strong winds and in previous seasons has seen crashes and capsizes aplenty.
Make or break in Season 4
With 25 percent of the total points for Season 4 up for grabs during this intense European stage the teams know all too well that the way they perform over the next six weeks will hugely impact their final position in the overall standings. A strong performance in Europe would be an excellent springboard for the second half of the season, while a bad showing – although perhaps not terminal for any of the teams – would see them playing catch up over the final seven events.
So how are the teams approaching this daunting upcoming six-week block of racing?
Nicolai Sehested (helm), Rasmus Køstner (flight controller), Julius Hallström (grinder) and Hans-Christian Rosendahl (grinder) debriefing after the race
Richard Mason – a grinder with ROCKWOOL Denmark SailGP Team that currently sits in third place in the overall standings, tied on points with second placed Spain SailGP Team, and just one point adrift of overall leaders Australia SailGP Team – says the Danish team are relishing the prospect of upcoming three events taking place so close to home.
"We can't wait. It's great to be in Europe. It's easy for us to get to regattas and the fact that they're all so close together for us as a Danish team is a good thing. I feel like the more time we spend in the boat, the more locked in we get. We are all aware, though, that with 25 percent of the total points on the table if you get this run of events wrong and you're going to be in serious trouble."
Staying out of trouble
The short turnaround time between events means the teams will have to be careful to avoid major damage in Saint-Tropez that could prevent them from competing in Taranto or even Cadiz. Push too hard, capsize and destroy a wingsail, or be too aggressive on the racecourse and cause a boat on boat crash, and with not enough time for repairs your season could effectively be over.
That's a looming worry that needs to be factored in both strategically and tactically by all the teams but Mason believes the experience of the ROCKWOOL management in this area is a major benefit to the Danish team.
"There is a lot of ROCKWOOL DNA in how this team has been created – particularly around goal setting and strategic and tactical thinking – that doesn't necessarily come from a sporting background, but more of a corporate business environment. Out of that there are overarching goals set for the team and then for us as sailors it's important to put those into a sporting perspective.
"They are very much long-term, high-level goals and we have to decide how we then achieve those goals by breaking them down into smaller short-term things. That kind of thinking certainly helps as we discuss our approach to the European phase of this season."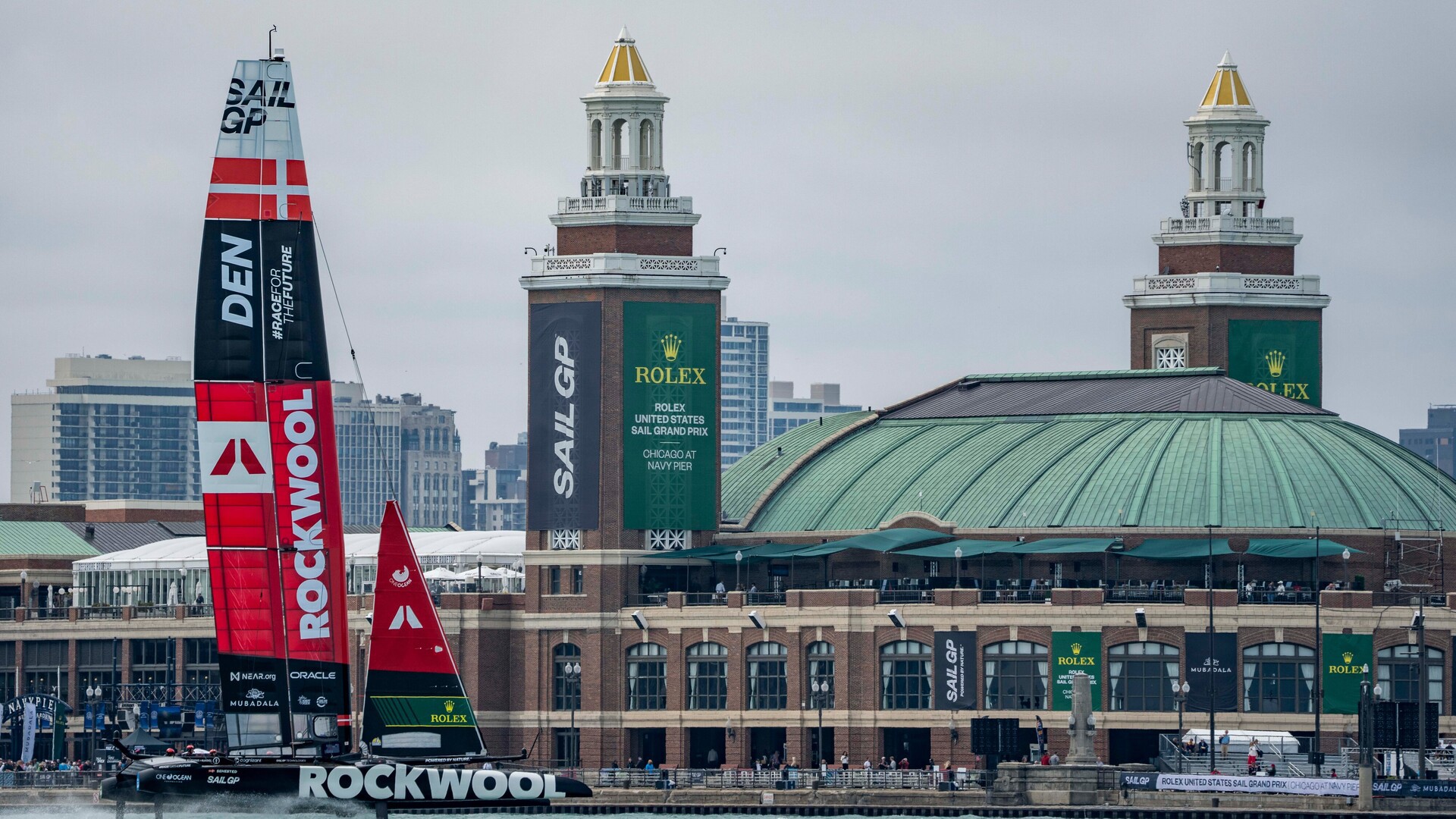 ROCKWOOL Denmark SailGP team's F50 'flying' above the water infront of the Navy Pier in Chicago
Strength in depth
As well as protecting the team's physical assets, with limited time to recuperate between events the sailors need to try to avoid picking up injuries that could mean them missing an event.
On that score too, Mason says the Danish team is in a strong position.
"For sure, having the short time between events means you're not going to be losing anybody, but the good thing about the Danish team is that we have got real strength and depth in the squad. You never want to lose a sailor from the line-up but I feel like we have enough talent to cover for that if we had to."
Aside from the sailing team, Mason says it's the shore support team who could be facing the greatest challenge while SailGP is in Europe. With so little shipping time the event organisers have opted to leapfrog half of the team bases on to Taranto to be ready in time for that event – meaning the 10 teams will be sharing bases.
"That's a big challenge for the shore team. There's a lot of logistics that have to change and be modified in order to make it happen. We are sharing a base with the German team in Saint-Tropez which throws up some interesting dynamics. The boats are all one design so there are no secrets there but just being around the other teams when you are debriefing could be tricky.
"More of an issue is that sharing tents means one boat will be outside – which presents its own problems. At a venue like Saint-Tropez if there are strong southerly winds there can be a lot of sand in the air that can mess with the systems and the winches and things like that.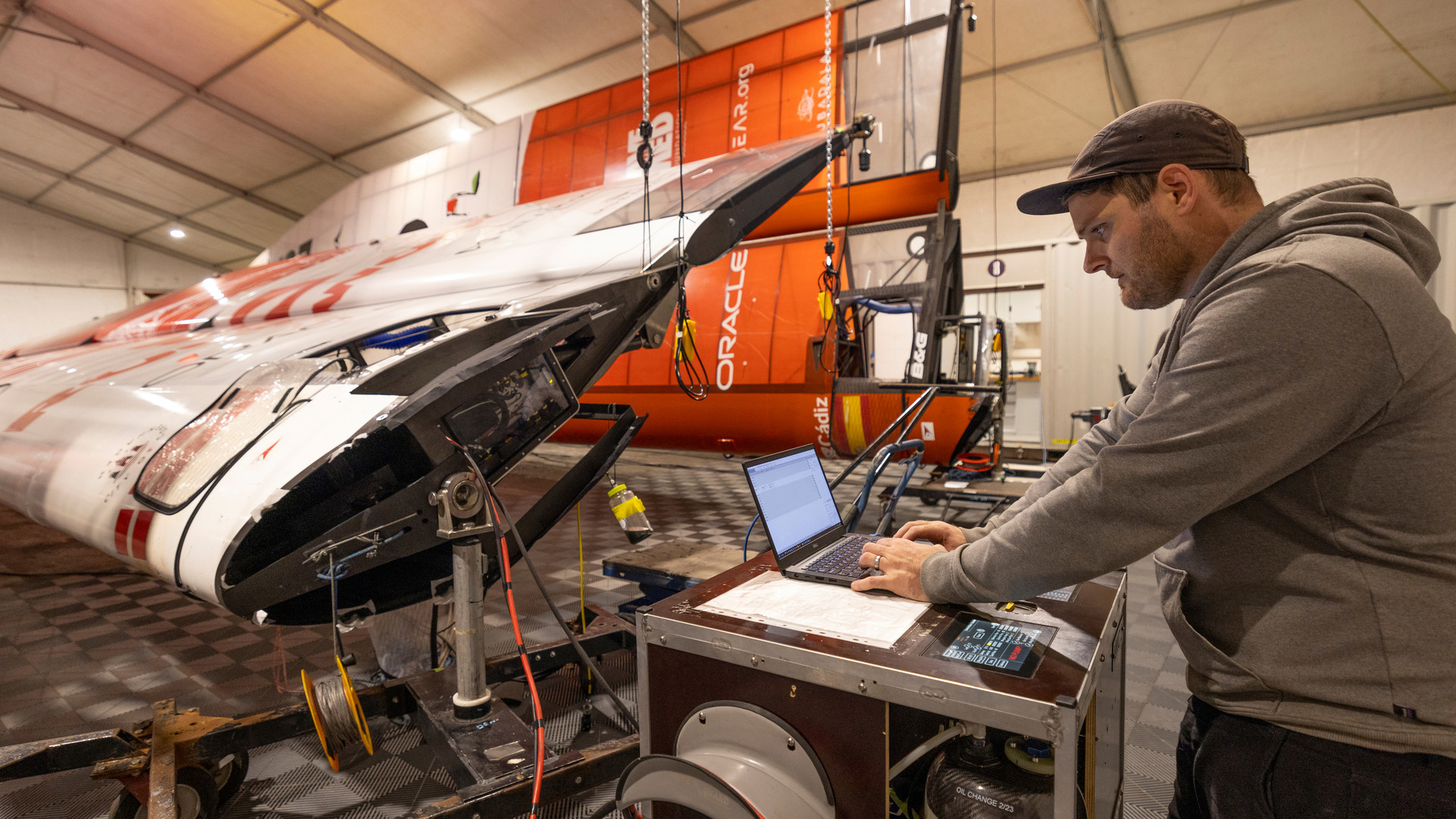 Members of the SailGP Team technical team working with the electronics of the main wing of an F50 catamaran
If you get heavy rain overnight that can chuck a load of dirt and muck into the boats and you don't want that in the foil cases and winches. Plus the logistics of things like changing foils would mean wheeling the boat in and out of the base. All in all it's just a load more work for the shore crew."
Despite the change of pace as Season 4 rolls into Europe, Mason believes the Danish team will not be straying too much from the original strategy that has seen them finish fourth in Chicago and second in Los Angeles. With such a strong start to the season Mason adds that the team is justifiably upbeat ahead of the three European events and plans to back themselves to continue to perform well.
"The mood is good. We're not troubleshooting or problem solving, but we are making little tweaks here and there to keep on improving. We have been sailing the boat really well and making good decisions on the race course. Importantly, we have been very consistent on the controllable things – like tacks and gybes – so we have had time to focus on the strategy and I think that's been our big gain so far this season.
"We are not overconfident, but there is a lot of positivity. I think we're old enough and wise enough to know that it's a very long season. There are a lot of regattas and a lot can happen. In SailGP in particular there are a lot of unknowns that can get thrown into the mix.
"Our plan is to trust in the system that we've got now because so far it's been going pretty well. That said, if we find we need to change something in those two weeks between events, then maybe we will tweak things a little bit."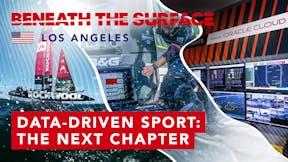 Beneath The Surface
Go behind the scenes in LA with ROCKWOOL Denmark SailGP Team as they discover how the tech-driven sport of SailGP is unleashing the power of data

Want to learn more about SailGP?
Sailing vocabulary
Foils - Foils are 'ski-like structures' mounted below the hull of the catamaran. When moved through the water, they generate lift helping the F50 to fly.
Wingsail - twin-skin sail or double skin sail is a variable-camber aerodynamic structure that is fitted to a marine vessel in place of conventional sails. Wingsails are analogous to airplane wings, except that they are designed to provide lift on either side to accommodate being on either tack
Winch - Winches are drum shaped mechanical devices used to handle halyards, sheets and control lines.