To mark its partnership with the Denmark SailGP Team, ROCKWOOL presents 'Into The Depths' – a video and audio episode that discusses some of the unique challenges faced by cities around the planet, and how innovative citizens and sustainable initiatives are trying to tackle them.
And to coincide with SailGP's first ever racing in Italian waters – the Sail Grand Prix in Taranto in June – Episode 1 of 'Into The Depths' sees Denmark SailGP Team's Nicolai Sehested connect to Italian explorer, TV personality and campaigner, Alex Bellini.
Bellini has made his name taking on a range of epic challenges, including rowing solo across the Atlantic Ocean, running across the United States of America – and most recently, navigating the world's 10 most polluted rivers as part of his new campaign, 10 Rivers 1 Ocean.
"I always wondered where the plastic polluting the ocean was coming from – and then I found some new research that said that 80 percent of plastic in the ocean comes from just 10 rivers," he explains.
"I couldn't believe it. I thought, wow… nobody knows this. And then my next idea was, what if I embark on a journey where I travel on these rivers, trying to figure out what does living by these places mean, and how do these people contribute to solving this problem?"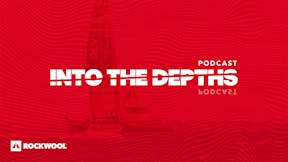 To watch or listen to Episode 1 of Into the Depths, hit the links below: