A third-placed finish in the final fleet race in Taranto completed the Danish team's best ever day's racing, and left them sitting fifth in the overall Italy Sail Grand Prix standings.
"It's an important moment for us as a team, and we're very happy with our performance today – the result is a validation of all the decisions and work we do," said Nicolai Sehested, helm of Denmark SailGP Team. "The last race was pleasing for us as it was a tricky one, in difficult conditions. We kept a cool head, executing our game plan."
"We're actually a bit disappointed we didn't get better results on Race Day 1, as we could've been challenging for an overall podium. The main thing for us in this event is that we're seeing improvements all over and sailing the boat really well – the guys are keeping it clean, and making lots of hard manoeuvres without making mistakes."
The ROCKWOL team also picked up a fourth-placed finish on Sunday, holding its own in an extremely competitive fleet – a sign of the impressive progress made by the team, despite Sehested's crew being one of the newest entries in the global racing league.
On the second Race Day, the teams reverted to five crew onboard, after SailGP Race Management reduced crew numbers in light winds on Race Day 1.
In tricky conditions, the Danish team claimed seventh, fifth and sixth-placed finishes on Saturday – as United States SailGP Team dominated proceedings to top the leaderboard at half-time in SailGP's first ever racing in Italian waters.
But in a cruel twist, the United States SailGP Team – led by Jimmy Spithill – nosedived in the final, winner-takes-all match race – as Nathan Outteridge's Japan SailGP Team, with Italian star Francesco Bruni onboard, took the overall glory in Italy.
And Sehested revealed that the Danish team is planning to continue to build their momentum and experience between now and the next SailGP event in July.
"We're going to keep working as a team - that's something that's unique about us, is that we do this as a team, and we stick together between events. We'll go back to Denmark, keep debriefing, practice on the GC32 and hopefully get a bit more time on the simulator.
"All of the things we do on shore add up to improve our performance on the water and close the gap, and we'll turn every stone to improve. We'll keep putting in the hours, because in a fleet this strong you won't get results unless you put in the work."
The next action of SailGP Season 2 will see the teams remain in Europe, heading to Great Britain Sail Grand Prix in Plymouth on 17-18 July, before the Danish team returns to home waters for the ROCKWOOL Denmark Sail Grand Prix in Aarhus on 20-21 August.
"It's great to have home support from our Danish fans – it means more than you think," added Sehested. "It can be a lonely road when you're a new team trying to beat these guys, as they're not easy to beat, so we really appreciate all the positive comments. They give us a lot of motivation and keep us going."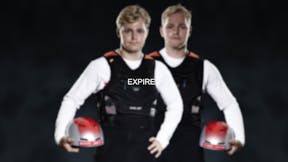 Train with the twins
Team ROCKWOOL Racing twins Lars-Peter and Hans-Christian share their workout so you can stay in shape no matter where you are!