The Danish team – consisting of the athletes from the Denmark SailGP Team presented by ROCKWOOL – finished in third place in the four-day GC32 Lagos Cup 1 event, after an intense battle for the podium.

And helmsman Nicolai Sehested explained that he was delighted by the team's progress and result in Portugal.
Heading in the right direction
"We're over the moon to grab a podium in our first ever GC32 Racing Tour event – and it shows the progress we are making as a team that we can compete with these long-standing campaigns despite having never raced in this boat before," he said.

"We have a lot of confidence in what we're doing as a group, and the steps we're taking. We didn't necessarily come here expecting a result, so I'm pleasantly surprised by how well we sailed and battled in such a tight fleet.

"It shows that we're heading in the right direction, which right now is even more important than where we finish."

The GC32 Lagos Cup 1 saw Team ROCKWOOL Racing plus five other teams – Alinghi, Red Bull Sailing Team, Black Star Sailing Team, Zoulou and Swiss Foiling Academy – line up on the start line in Portugal in the first GC32 action in 18 months, since the Oman Cup in November 2019.

The dark horse
Team ROCKWOOL Racing was dubbed the 'dark horse' of the competition before the racing began, coming into the event with plenty of experience and talent onboard, but having never raced its GC32 catamaran against another boat.

And Day 1 of the event got off to a slow start for the Danes, with the racing pushed back due to light winds – and mixed results in the opening four races, as eventual winners Alinghi asserted its dominance in the early stages.

Conditions improved significantly on the second day, with breeze of 20-25 knots ensuring some thrilling racing, and a first ever race win for the ROCKWOOL team, who also secured a second, third, fifth and sixth place to round off a strong day on the water.

Significantly, Black Star Sailing Team broke their mast in Race 7, which put paid to their racing on Friday – and saw the Danish team sneak into the overall podium spots.
All to play for on the final day
Day 3 began in similarly positive fashion for Sehested and his crew – grabbing a win in the opening race of Saturday, and then recording an impressive triplet of second places, plus a fifth spot, to leave them in third in the event standings, with it all to play for going into the final day.

And a second and third placed finish in the final two races of the event confirmed Team ROCKWOOL Racing's spot on the podium, behind Alinghi and second-placed Red Bull Sailing Team – who capsized in breezy conditions on Sunday.

"The racing here in Lagos has been fantastic – it's a great spot, with good weather and top-class competition. We hope to take these learnings and positive momentum into our next challenge, as we step back into SailGP in just under two weeks."

In the Great Britain Sail Grand Prix in Plymouth on 17-18 July, the ROCKWOOL crew will aim to build on a first ever SailGP race podium spot, secured in Italy in June.

Sehested added: "The events are coming thick and fast for us, but that's how we like it – we know that to accelerate our development and keep improving, we need to stay busy and get as many hours on the water as possible."

The next GC32 racing will once again take place in Lagos, Portugal, where the teams will battle it out in the second edition of the Lagos Cup on 28 July-1 August.

For more info on the GC32 Racing Tour including reports and scoreboards, head to www.gc32racingtour.com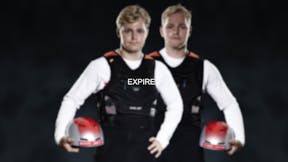 Train with the twins
Team ROCKWOOL Racing twins Lars-Peter and Hans-Christian share their workout so you can stay in shape no matter where you are!