Maybe it's unsurprising that the idea of co-housing comes from Denmark. After all, it's the country that developed hygge – a concept that doesn't have a direct translation but can roughly be described as a sense of cosy contentment, often when sharing moments together with good friends. Co-housing in Denmark usually involves homes being constructed around a shared courtyard to encourage a sense of community and create lots of occasions for hygge between neighbours. Growing popular in Denmark in the 1970s, the notion behind co-housing was to balance privacy and communality, reaping the benefits of shared spaces and facilities.
Student accommodation is often based on co-housing principles, but very few take it the same level as BaseCamp just outside Copenhagen. At BaseCamp, this award-winning student accommodation complex is designed to create a sense of community while fitting in perfectly with its green surroundings.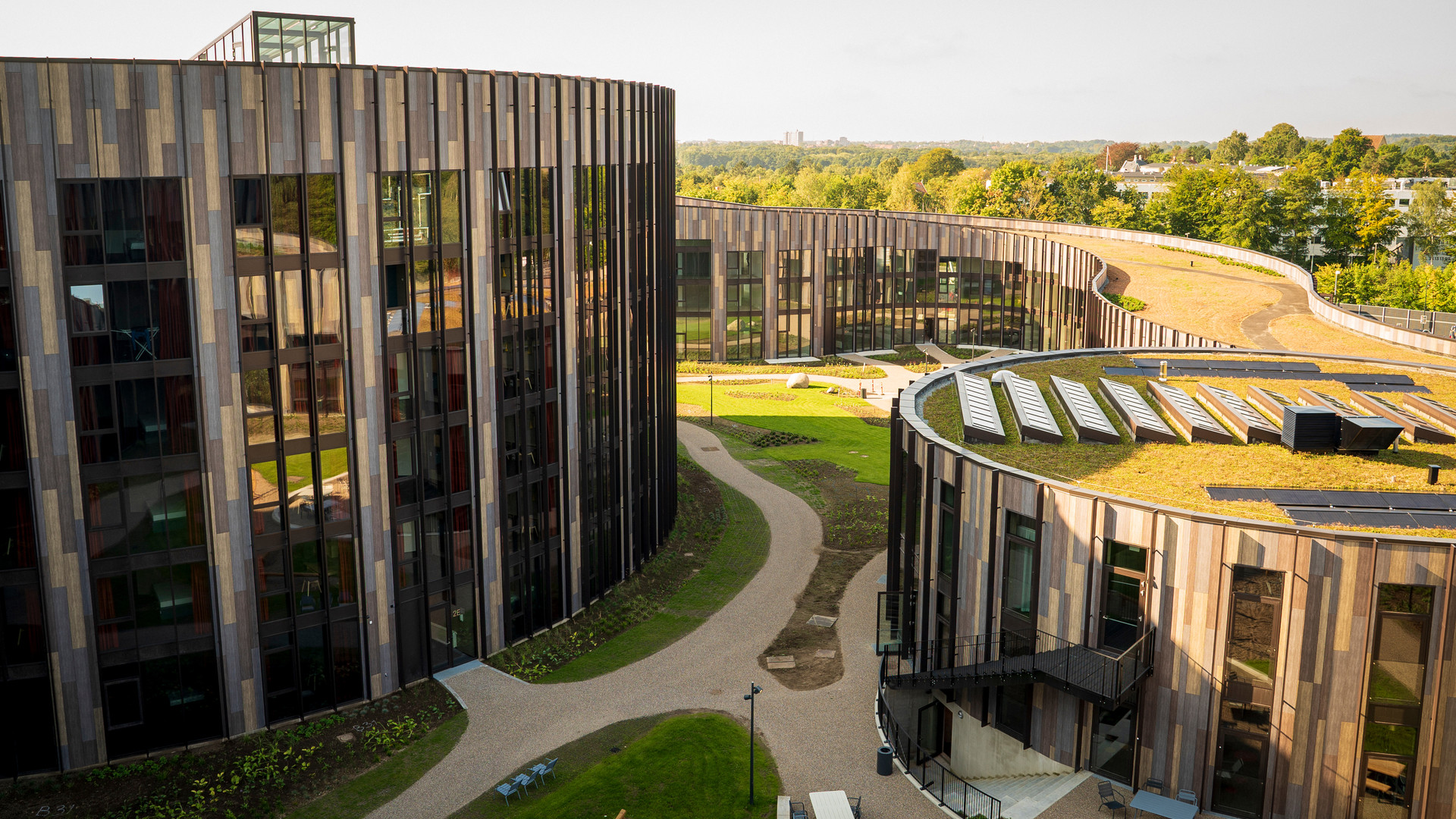 Where scenic surroundings and student life goes hand in hand
With its' organic shape and varying heights, BaseCamp almost melts into the surrounding nature – which was also the main source of inspiration for the space. When designing the complex, Lars Gitz Architects set out to create a campus that truly respected the surrounding nature and used sustainable materials in its' construction.
"Based on the vision of creating a building that intertwines with nature, the forms are inspired by nature. The construction is therefore neither straight nor symmetrical, it is organic and twisted in shape - just like nature is," says Jon Clausen, architect MAA and partner at Lars Gitz Architects.
Rising to an altitude of 22 metres, a vast, green roof spans 8 000 m2. The roof is truly one of the highlights of the space, combining stunning views of the surrounding nature, attractive roof terraces, herb gardens to attract bird, bees and budding chefs and a long running path.