An increasing rate of urban expansion will require smarter thinking and planning from city governments. By 2050, almost 7 out of 10 people will live and work in cities. For today's policy-makers, planning for future resilience is vital as the effects of climate change continue to create more extreme weather events and put urban populations at greater risk.
City governments and municipalities understand that they are on the front lines when it comes to dealing with climate events. Many local and national governments are taking action to build more resilient cities that are capable of withstanding the effects of climate change and enable them to quickly respond to the challenges the future will bring. Programmes, policies, and shared prevention strategies can help local governments increase the resilience of the built environment, while creating new ways of generating economic prosperity for their citizens.
Why should we make our cities more resilient?
The CEO of Uber, Dara Khosrowshahi, recently said that climate action is a team sport. It requires everyone to work together to help mitigate the effects of climate change, including policy-makers, businesses, action committees, and individuals. The company is committed to providing only electric vehicles by 2030 for their services in cities across Canada, Europe, and the United States.
While these types of interventions should not go unnoticed, halting the effects of climate change is no longer an option. Instead, societies need to invest in solutions that will help limit the effects of extreme weather events by building robust, resilient, and reliable infrastructure while creating sustainable supply chains for their populations.
Some of the extreme weather events that are affecting today's urban populations are:
Cloudbursts and excessive precipitation in cities that are not used to dealing with increased downpours.
Heatwaves, extremely cold temperatures, droughts, and runaway wildfires.
Extreme temperatures that lead to more powerful cyclones, tropical storms, and typhoons.
At the same time, more people are moving to cities for their economic prosperity. Currently, about 55 percent of the world's population live and work in urban environments. City administrators need to ensure they provide a resiliently built environment while also ensuring access to affordable housing, reliable sources of food and water, and education and healthcare facilities while creating barriers against the effects of climate change. A circular, resilient economy can help generate jobs, reduce waste, and provide a reliable energy supply using renewable sources.
What makes a city resilient?
Administrators and decision-makers need to consider both long and short-term climate challenges in their plans when setting up incentives, policies, and measures as they try to improve the resiliency of cities. Resilient cities provide a safe and healthy existence for all their citizens. It should also aim to create a sustainable environment by limiting the impact on the planet's resources in consideration of the earth's natural boundaries.
Resilience means resisting the immediate challenges of the climate while also being able to recover quickly from more extreme events. Adapting to climate challenges by limiting the effects of external conditions and meeting the physical challenges of the future is what makes a city resilient.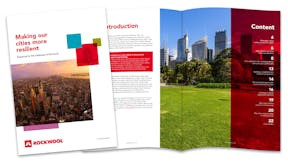 Making our cities more resilient
Urban resilience is a city's ability to bounce back after experiencing hardship. Many of the world's major cities are leading the fight against climate change, but increasing resilience goes further than just preparing for a natural disaster. We deep-dive into what resilience really means for cities!