When creating a new room, area, or building, there are many things to think about. Both the client's and architect's vision are important, but so too is the practicality of the space.
One of the most significant things to consider when designing a space is its purpose and how it can be improved to make the residents happier and healthier. Often the fifth wall – the ceiling – is overlooked, but it's an important part of the space.
Colours can play a meaningful part in the design of a building. They can be used to make a statement or to influence how people feel when they are in a space. Le Corbusier, the Swiss French architect and designer who pioneered modern architecture, believed that colours were as important as the floor plan of a building.
How can you use colours to change the way people see a space?
Colours can be used to change how a room or place looks. They can make a space seem bigger or smaller and wider or narrower. Different colours can also create different moods. Below are some examples of how working with colours on different surfaces can benefit your interior design: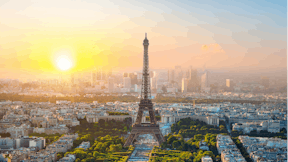 It's time to build a better future
To meet the Paris Climate Agreement's goal of keeping the temperature rise well below 2°C, we need to act now