The Singapore Sail Grand Prix kicks off 2023 with the hydrofoiling F50 catamarans racing in the region for the first time. And it's not only an ocean-based battle. The SailGP Impact League has matured since its introduction in Season 2, and each team eagerly competes to be the most sustainable on top of being the fastest on water. From adopting clean energy solutions to avoiding all single-use plastics, the teams are measured against a variety of criteria. So the focus naturally turns towards local sustainability initiatives when the catamarans are in town.
Famous for the 'Keep Singapore Clean' initiative that has been running since 1968, the local government consciously and successfully sought to promote the city-state as being cleaner – both in terms of physical cleanliness as well as being free from corruption – than their developing neighbours. And this in turn attracted foreign investors. The result is the development of a progressive oasis in South East Asia, where skyscrapers and luxury hotels soar above the chewing-gum free city streets and perfectly planned parks and recreational spaces. But the fact that just 13 percent of Singapore's domestic waste was recycled in 2021 contrasts starkly with the rest of the city-state's clean and green image.
More waste, less recycling
OK, it's an 10-year low for Singapore – but it occurred at a time when waste was increasing. As the pandemic ended and the return to economic activity began, households produced more waste – 1.82 million tonnes of waste was produced in 2021, up from 1.77 million tonnes in 2020. This wasn't helped by the fact that the collection of domestic recyclables was put on hold during the first year of the pandemic.
According to the National Environment Agency (NEA), about 40 percent of the waste found in Singapore's blue recycling bins is unsuitable due to contamination. This occurs when residents deposit incorrect items or fail to wash their recyclables leading to leaks primarily from food and liquid waste. So, part of the issue is education-related, which NEA is tackling with their Recycle Right campaign that aims to guides residents towards better recycling practices. Households have also been provided with recycling bins to make it easier to collect recyclables before offloading at larger, neighbourhood depots.
On the other hand, triple the number of consumers are recycling electrical goods following the introduction of more than 640 collection stations throughout the city-state. Located at electronic stores, supermarkets and community centres, the scheme gathered 3,500 tonnes of consumer electrical waste in 2021.
Although the uptake on industrial recycling is more successful than domestic, there is still room for improvement. According to NEA, the recycling rate of the non-domestic sector increased from 68 per cent in 2020 to 70 per cent in 2021.
Plastic waste – a growing concern
With single-use plastics such as packaging, utensils and bags continuing to be used extensively all over the world, plastic production is showing no signs of slowing. NEA is very conscious that more needs to be done to cope with this growing use of plastic – and the concern is understandable. From the 982 thousand tonnes of plastic waste generated in Singapore in 2021, only 58 thousand tonnes – a mere six percent – was recycled. Once again, education can help. Much of the plastic deposited for recycling is contaminated by food and drink residues or is mixed plastic types which complicates recycling and segregation process.
More Speed Less Plastic
It's almost impossible to think about plastic waste without considering its impact on our oceans. Every year, around about 12 million tonnes of plastic waste ends up in our ocean environments, having a devastating effect on marine life. So it's fitting that the Denmark SailGP Team presented by ROCKWOOL and One Ocean Foundation have launched the 'More Speed Less Plastic' initiative just ahead of the Singapore Sail Grand Prix. Born as an innovative way to help clean-up, protect and restore our ocean, the initiative sees the team commit to a plastic pledge based on its top speed in every SailGP event, with the goal of diverting at least one tonne of ocean-bound plastic waste per Sail GP event. In other words, the faster the team races, the more coastal plastic waste will be collected and recycled.
As part of the Sustainable Singapore Blueprint, Singapore wants to raise the domestic recycling rate to 30 per cent by 2030. With Sail GP bringing new focus on waste management and innovative ways to encourage recycling to their shores, let's hope that more Singaporeans jump on the recycling wave and help achieve this important goal.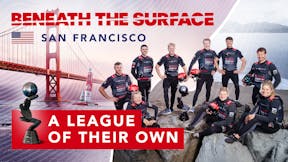 Beneath The Surface
Go behind the scenes with Denmark SailGP Team as they fight for the most sustainable accolade in sports - SailGP's revolutionary 'Impact League'.
Want to learn more about SailGP?