With the goal of highlighting the importance of energy efficient buildings for meeting global climate goals, Jens Birgersson and a team from ROCKWOOL were active at the recent COP26 in Glasgow, Scotland. To gain insights into the event and assess what needs to be done better, we speak with two of our key players at the COP; Brook Riley, responsible for EU affairs at ROCKWOOL Group, and Ólöf Jónsdóttir, Head of Public Affairs for ROCKWOOL UK.
Why was it so important that ROCKWOOL attended COP26 in your opinion?
Brook: This was COP26, meaning that the climate talks have been building up for the past 26 years, but so far failing to lead to significant results. The primary aim of the Paris climate agreement is to limit temperature increases to 1.5°C compared to pre-industrial levels[1]. Although more and more countries are committing to climate neutrality, the stark reality is that greenhouse gas emissions are still increasing. In fact, GHG concentrations reached a record high last year[2]. So the pledges made since Paris just don't add up. Being present at COP26 was really important for ROCKWOOL because buildings account for 28 percent of these global emissions – 36 percent[3] of the GHG emissions in the EU; 40 percent in the United States; and 42 percent in the UK. The clear feeling at ROCKWOOL is that we need ensure that emissions start to go downwards in the building sector. That's where we can play an effective role in offering solutions and bringing about results. This was our main thinking when prioritising COP26 this year.
Ólöf: There are so many different things that we have to tackle in order to get to the right place in the battle against climate change and they all compete for attention at COP. So if we don't play our part in driving the piece of the puzzle that we have solutions for, it can easily fall off the priority list. In the run up to COP, we did a lot of work both directly and through our networks to ensure that building efficiency was on the agenda and that there was a specific day at COP dedicated to the built environment. It's also just important to be present – both symbolically and in terms of the discussion – to actively bring it to life. As one of the big five year COPs, and with climate change really coming to the fore during the pandemic, this was a particularly important one to be present at.
How did the day dedicated to the built environment come about?
Ólöf: It came about thanks to a push from a number of networks that we're involved in, with the UK Green Building Council in particular spearheading a campaign to secure this. When the UK presidency set out the priorities for COP, there was space where we could highlight our issues, but there certainly wasn't a dedicated focus on the built environment. It took a lot of effort behind the scenes to highlight that buildings are a really important part of the puzzle and that we can't solve climate change without addressing building efficiency.
It seems so obvious that we need to step up and take action to upgrade our buildings. What is taking the focus away from this?
Brook: I believe it was TS Elliot who said, "Between the idea and the reality falls the shadow," – which is very appropriate for this situation. The issue is basically a delivery challenge. It's one thing to make a commitment for several decades in the future about achieving climate neutrality, and it's another to actually put the short-term measures in place to get us collectively on track to deliver those results. Inversing the emission trends seems to be the sticking point for many global leaders and for the policy makers who are working with them. Let's take the EU as an example. There has been commitment for the past three years to achieve climate neutrality and the 2030 climate goals have been revised significantly to be much more ambitious. So the next steps are obvious but complex from a logistic perspective. There's a need to:
identify the workforce capacity requirements,
design policies to attract and train more installers,
educate the people working in the regions and cities whose job it is to support homeowners and help them understand the subsidies that are available, and explain how they can apply for and how to find qualified workers to design and execute their renovation projects, etc.
Even when you have the strong political commitment to get results as we do in the EU, you still need to identify and tackle the administrative delivery challenge. If you look to other regions such as the US, there is still not an awareness about the need for building renovation yet. There's a strong focus on supply-side solutions – on cleaning the energy supply. But if we want to build up and sustain public support for climate action over the next decade, people really need to feel the benefits of climate action in their pockets – and there is no better way to do this than with properly renovated, cheap-to-run, healthy homes. In the US, this debate is still at an early stage and the case for action still needs to be won. There are of course cities and states within the US that are considerably further ahead than others; California, Boston, New York to name a few. So it's about ensuring that it's not just a pilot project here and there but a united national effort. And that's where we still need to do a lot more work and where we can provide a lot of input.
Ólöf: As we mentioned before, there is so much that needs to be achieved and in a very short timeframe. This leads to a bandwidth issue and the challenge is that political commitments to renovation – and climate action in general – are currently outstripping governments' capacity to deliver their goals. It's a complex area that requires an effective and detailed delivery plan to make it happen - big policy ideas and money aren't enough by themselves.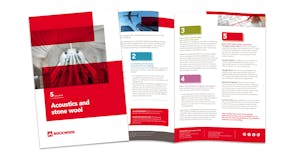 Facts about stone wool
We've gathered up everything you need to know about stone wool to get started with your next project. Check out the factsheets below!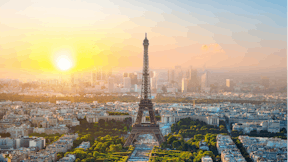 It's time to build a better future
To meet the Paris Climate Agreement's goal of keeping the temperature rise well below 2°C, we need to act now