As boring as they sound, performance standards have been improving our daily lives for decades. When they work, people, business and society benefit.
So as the European Union looks for ways to increase the rate and depth of renovation of its existing building stock, minimum energy performance standards (MEPS) could be the difference maker – securing the path to long-term climate goals while also stimulating the green economic recovery we need now.
The current state of renovation: too slow, too shallow
Despite the region's best efforts, renovation rates have not yet taken off the way policymakers have hoped. For the EU region to meet its new 55 percent emissions reduction targets by 2030, current building renovation rates in Europe must at least double by 2030– from about one percent to two percent of buildings per year.
And yet, even that probably won't be enough, says a new report from the Regulatory Assistance Project (RAP), "Filling the policy gap: Minimum energy performance standards for European buildings". The authors, Louise Sunderland and Marion Santini, found that many of the renovations contributing to the current one percent rate simply don't go deep enough, accomplishing little in the way of energy savings – increasing the likelihood these buildings soon will need to be renovated again.
"The average energy savings achieved by renovations were only nine percent in domestic [residential] and 17 percent in non-domestic [non-residential] buildings from 2012 to 2016. Deep renovations that save more than 60 percent of primary energy, and take buildings closer to decarbonisation, are only carried out in 0.2 percent to 0.3 percent of the stock a year", says the report.
Further, the authors write that the inability of Member States to boost the rate or depth of renovation – despite generous programmes of assistance in many cases – suggests "the existing policy framework has proved to be inadequate and must be reinforced" with "additional policy tools and stronger approaches to swiftly accelerate deep renovations".
Their recommendation – introduce Minimum Energy Performance Standards (MEPS) for existing buildings.
MEPS – policies that drive continuous improvement
Performance standards are widely used in other areas as policy tools to ensure products become better for people and society (over predefined time intervals) while also stimulating innovation in markets.
Whitegoods (i.e. large electrical appliances) are a good example of how MEPS can be a win-win for society and markets. It is thanks to performance standards and performance labelling for white goods like washing machines and refrigerators that manufacturers – through R&D and innovation needed to meet the requirements – make better performing products that consume less energy and cost less to buy and operate over time. Clean drinking water, food that doesn't poison us and medicine that is tamper proof are other examples of performance standards at work.
Used in buildings, MEPS are not new either. And while they vary in their design depending on local priorities, they always require buildings to improve their energy performance to meet a specified standard at a chosen trigger point or date and can include standards that tighten over time. This ensures a desired rate of and depth of renovation. See below illustration from the RAP report.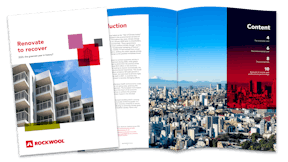 Renovate to recover
Energy renovation is the best way to achieve post COVID-19 economic growth while addressing the climate crisis. Learn how energy renovation can benefit society and the environment for a greener, more sustainable future.