Five years ago in late 2015, the world met in Paris and pledged a commitment to get serious about climate change. Four years later – after a year full of protest from millions of students and parents, marching for the climate every Friday – a new European Commission entered the stage and set a new tone. The new Commission President, Ursula von der Leyen, branded herself as a climate activist, announcing a European "Green Deal" would be the cornerstone of her presidency. The Green Deal was a clear and welcome response to the demands of civil society, but we all couldn't help but wonder if it would deliver. Was it simply a means to pacify an increasingly restless and frustrated population?
Not long after the introduction of the EU Green Deal, the pandemic came and took center stage. By March 2020, the European Commission admitted that the Green Deal was delayed. In the face of the corona crisis, priorities needed be reshuffled and new challenges, such as working from home, slowed down the legislative process.
However, the following month, the European Commission announced its Recovery and Resilience Plan. This included the call for a Renovation Wave in the buildings sector as a key component to build Europe's economy back better than it was before – to ensure an economic recovery that prioritised the health and well-being of citizens while keeping Europe on the path to climate-neutrality. The Renovation Wave, finally revealed on October 14th, sets the framework to instigate real change in 2021. And now the EU's 27 Member States have unanimously agreed on a higher 2030 climate target – to reduce emissions by 55 percent – one year to the day that Von der Leyen announced her EU Green Deal. Now is the time to get serious action under way.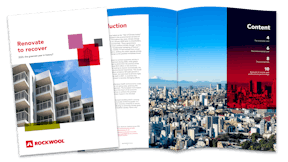 Renovate to recover
Energy renovation is the best way to achieve post COVID-19 economic growth while addressing the climate crisis. Learn how energy renovation can benefit society and the environment for a greener, more sustainable future.