The second event of SailGP Season 2 takes place on 5-6 June in the city of Taranto, Southern Italy. While the city will bubble with energy and adrenaline throughout the event, it isn't always the case. Taranto, and other parts of the southern region, has long suffered from brain drain. But can the renovation wave that is currently sailing through Italy help reverse this trend and breathe new life into this once charming city?
The Oxford dictionary defines brain drain as '​the movement of highly skilled and qualified people to a country where they can work in better conditions and earn more money.' And this phenomenon is something that Taranto is no stranger to.
An expensive exodus
During the last decade, it is estimated that more than 1m people moved from the mezzogiorno – the southern part of Italy and its islands – to the more prosperous north. Not only that, but between 2009-2019 approximately 900,000 Italians emigrated abroad, with one-third originating from the mezzogiorno[1]. This continuous movement of people resulted in the population of Southern Italy shrinking by more than 3 per cent between 2014 and 2020[2], while staying significantly more stable in the richer north-east.
Together with Romania and Poland, Italy is among the European countries that send the most workers abroad, according to figures from the European Commission. The Italians choosing to move abroad are usually educated to university level. In fact, when the account of money invested in the education of the migrants is considered, Italy's brain drain costs an estimated 14 billion euro every year[3].
A positive pull from the pandemic
Although Covid-19 has created a difficult situation for many Italians, a surprising upside is that many of the young Italians who left to work abroad are now 'working from home' – i.e. working remotely from Italy. According to Italy's foreign ministry, the number of Italians aged between 18-34 returning home increased by 20 percent during the past year. Their return brings more than new energy and innovation to the region, as Italians who spend more than six months in the country have to pay their taxes there providing an economic boost to the local area.
A group of savvy Sicilians, who were also among those who 'came home' as a result of the pandemic, recognised the potential of the newly-returned, highly-educated Italians, and founded an organisation called South Working in March, 2020. By creating a network of young professionals, their goal is to improve the technical infrastructure of the region and encourage those who returned during the pandemic to stay and to develop the economic and cultural environment of the region to avoid graduates leaving in the first place.
Renovating to reverse brain drain
The EU is promoting energy efficiency renovations for Europe's building stock as one of the best ways to help our economies recover after COVID-19. The ambitious
goal is to achieve the greatest economic benefit and the greenest climate impact in the shortest possible timeframe – and the EU are offering generous incentives to meet it.
In Italy, the 110 percent 'superbonus' was announced on May 26, 2020, as a way to encourage families to upgrade their own living conditions and make use of the EU incentives. This surge of renovation funding could offer other benefits; creating a host of local jobs and elevating the region's infrastructure.
At the end of 2018, unemployment in Southern Italy was at 18.4 percent compared to 6.6 percent in the central and northern regions. At 50 percent, the unemployment rates for young people in Southern Italy are among the highest in Europe[4]. Investing in construction is a great way to get funds to workers and small businesses compared to other sectors where a relatively small number of large corporations would be set to benefit. Approximately 95 percent of construction companies employ 10 or fewer people, and craftsmen generate two-thirds of their revenue locally within a 50-km radius of their business. As social issues and unemployment go hand-in-hand, an increase in local employment options and more spendable income in the region could go a long way to boost society in the region.
Ultimately, Taranto and the surrounding region could become a more attractive base for younger generations to come. With better infrastructure, more employment, the return of many educated Italians to their hometown – and, let's be honest, a climate, culture and cuisine that's difficult to beat – the reasons to 'stay at home' are increasing for the youth of Taranto.
Sources
[1] https://www.istat.it/it/files//2021/01/REPORT_MIGRAZIONI_2019.pdf
[2] https://www.ft.com/content/2c8f6ff9-ee12-4f0c-a7b2-fe2ac4469c11
[3] https://www.italianinsider.it/?q=node/8328
[4] https://www.eib.org/en/press/news/a-knowledge-based-industry-southern-italys-new-challenge#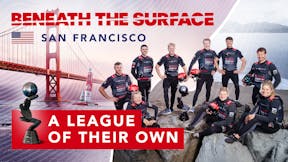 Beneath The Surface
Go behind the scenes with Denmark SailGP Team as they fight for the most sustainable accolade in sports - SailGP's revolutionary 'Impact League'.
Discover more Beneath The Surface
Innovation is a product of curious minds, good data and ambitious goals. Without it, we couldn't achieve what is required to create a more sustainable future - Or, indeed, to win races. But the innovations that make it possible to really lower the world's emissions and make it possible to sail 100kph in a 50ft sailboat rarely get the credit they deserve. They are hidden beneath the surface – inside walls, hulls, materials, computers and minds. We want to put what's beneath the surface in the spotlight.