It may resemble a futuristic spacecraft, but the stunning VTB Arena has taken great care to preserve its ties to history. The reconstructed and refurbished home of FC Dynamo Moscow, one of Russia's most famous soccer clubs, is built on top of the original 1928 stadium's perimeter wall, with a statue of legendary goalkeeper, Lev Yashin, gracing the main entrance.
The stadium is part of the spectacular project referred to as VTB Arena Park. Spanning 300,000 m2, the project also includes the Dynamo hockey rink as well as a park, shopping and entertainment centre, office and apartment buildings, five-star hotel, and an underground car park with 1,600 spaces.
The challenge
Located just five km from the Kremlin, the project's size and prestige meant that it received a lot of public attention – not least because the stadium belongs to the legendary football club, Dynamo Moscow. The historic stadium walls were preserved as part of the reconstruction, with many die-hard fans eagerly awaiting the final result, so there was no room for mistakes!
The goal of the project was to combine sports, entertainment, commercial and residential facilities in a unique location within the historical green area at the very heart of Moscow. Its very nature means that people – their comfort and safety – was key to its success. Only the best materials were considered for the construction – and fire safety, energy efficiency, thermal insulation and noise reduction was high on the list of the owners' priorities.
And unsurprisingly, considering massive size and prominent location of the project, time was a critical factor
The article continues below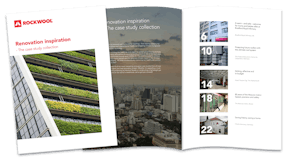 Top 10 renovation studies
We've gathered up our best renovation case studies for you to get inspired for your next project!
Moscow, Russia
Project location
VTB Arena park
Moscow
Russia