The recent project marks one of the most significant building and renovation projects in the Academy's near-200-year history.
To achieve the very best performance demands commitment, skill and passion. The team behind the recent reinvention of the Royal Academy of Music in Regent's Park, London called on all three qualities to create the
stunningly beautiful, acoustically brilliant and inspiring spaces for staff and students. The project included completely refurbishing the 309-seat Susie Sainsbury Theatre and creating the new 100-seat rooftop Angela Burgess Recital Hall. Alongside these impressive spaces, the Academy also renovated 14 practice and dressing rooms, developed five new percussion studios, a large refurbished jazz room and a new control suite for its audio-visual recordings department.
The challenge
Creating impeccable acoustic environments was key during the project. But it was equally important to control how sound travelled throughout the spaces, while ensuring effective isolation from sounds from other areas.
The new performance spaces are hidden behind the listed façade of the Royal Academy of Music's Edwardian premises, surrounded by Grade I and Grade II listed buildings and located within the Regent's Park conservation area. The architects, Ian Ritchie Architects, needed to carefully design the new spaces so that they would seamlessly blend into the historic site.
The new Angela Burgess Recital Hall sits above the Susie Sainsbury Theatre, meaning it needs to be acoustically isolated from what was below as well as the other buildings in the vicinity.
"This one of the biggest challenges for the project," comments Richard Shanahan, Director at All Metal Roofing. "Sound quality was of absolute importance within the performance spaces themselves, but we also had to limit its travel around the building and externally."
The article continues below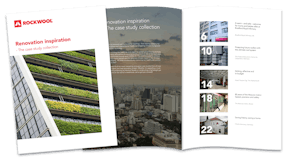 Top 10 renovation studies
We've gathered up our best renovation case studies for you to get inspired for your next project!
London, UK
Project location
The Royal Academy of Music,
London
UK