Having recently celebrated its 85th birthday, the Moscow metro has undergone many changes during its lifetime.
From expanding to 15 lines with 275 stations to establishing the Moscow Central Ring and the Moscow Central Diameter, the metro continues to evolve and grow in importance as a means of transport. But one thing remains unchanged, and that's the priority of the safety of passengers and employees.
The challenge
Every day, the huge metropolis of Moscow's is served by a hard-working metro system that transports up to 10 million people. Considered to be one of the most beautiful metros in world, it's a well-developed underground system that allows the city dwellers save valuable travel time. But like all metros, it's considered to be a high-risk zone. The very nature of a metro
means that many people are accumulated together in a confined space, deep beneath the streets. In the case of danger, it's very difficult to evacuate people quickly. A potential fire – and the related smoke – in such a setting is deadly. That's why designers need to pay extra attention to safety issues when considering construction within the metro system. With the safety of employees and passengers at heart, the Moscow metro has included non-combustible thermal insulation made from ROCKWOOL's natural stone wool as a key element within its renovations and new builds.
The article continues below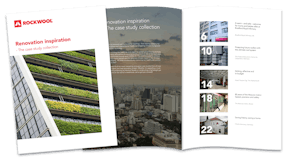 Top 10 renovation studies
We've gathered up our best renovation case studies for you to get inspired for your next project!
Moscow, Russia
Project location
The Moscow metro
Moscow
Russia