In the Dutch town of Sneek, an old warehouse was repurposed to serve as much-needed base for assisted living apartments. The Rockzero® Building system from ROCKWOOL ensured that the transformation took place in record time – while securing the highest insulation values.
Dutch real estate developer, RTR Vastgoed, owned an existing warehouse built in the 1950s. Located in a prime residential area right in the centre of Sneek, the potential of the building was huge – particularly if it could be extended vertically.
The challenge
The aim was convert the warehouse into eight split-level apartments, with some being built on top of the existing structure. The apartments would be leased to the local care institution, the JP van den Bent foundation. As the
development would take place in a residential area, they needed to be constructed as quickly as possible to minimise disturbance to those living in the area. But the greatest challenge was the fact that some of the apartments would be created above the existing warehouse – more literally put, built on the roof! So the apartments needed to be lightweight yet stable.
The article continues below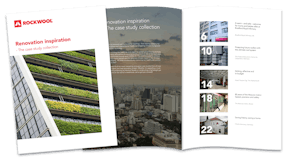 Top 10 renovation studies
We've gathered up our best renovation case studies for you to get inspired for your next project!
Sneek, The Netherlands
Project location
Warehouse conversation
Sneek
The Netherlands