Welcoming trainees, architects and engineers since 1927, the Federal Education Centre for Carpenters and Finishing Trades in Gladbeck, Kassel helps preserve interest in timber construction – both traditional and modern – in Germany. The sprawling facility spreads over 13,000 m2, with learning taking place in workshops, training and seminar rooms. The bulk of the centre's expansion took place during the 1980s.
The challenge
With a goal to improve energy efficiency, most of the facility was renovated during 2017/2018. Responsibility for the roof areas fell to the local craftsmen from Kühne GmbH, and to master roofer, Dirk Flörke.
"The Federal Education Centre has been expanded again and again. New buildings have been constructed and extensions added over time," explains Dirk Flörke. "So for us, it wasn't about upgrading the roof structure of a homogeneous building complex, but about processing many different roof structures and geometries. That's what made our job tricky and exciting at the same time."
In total, 36 individual roof areas covering around 5,500 m2 needed refurbishment and modern insulation installed. Even removing the old roof coverings was challenging, as many used asbestos corrugated sheets that needed to be dismantled and disposed of properly. And to add to the complexity of the project, the refurbishment needed to take place during term time when school was running.
The article continues below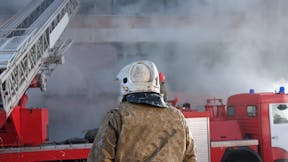 Top 10 renovation studies
We've gathered up our best renovation case studies for you to get inspired for your next project!
Kassel, Germany
Project location
Bubiza
Kassel
Germany