Watered by the Bièvre, a tributary of the Seine, the town of Antony is located 11 km outside the centre of Paris. When aging residential towers located on the hills needed refurbishment, it proved to be a chance to improve the look and general attractiveness of the area. Not only could this renovation improve the outdated look of the buildings, non-combustible stone wool could also improve their safety and comfort.
The challenge
Many architects face the challenge of creating buildings that ensure optimum fire safety and increase comfort – but that also meet their design dreams. There are many ways to comply with safety and building regulations, but what's the best option when if you don't want to compromise on design?
The article continues below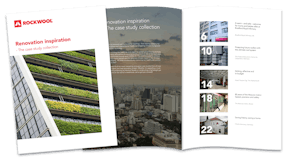 Top 10 renovation studies
We've gathered up our best renovation case studies for you to get inspired for your next project!
Paris, France
Project location
Bièvre towers
Paris
France