When developing an enormous new shopping centre in Seville, one of the primary dilemmas was how to keep the space comfortably cool under the intense summer sun, yet keep the energy bill under control.
Covering an area the size of 20 football fields, the Lagoh shopping and leisure complex in southern Spain sprawls over 100,000 m2, with an artificial lake covering 6,500 m2. Located in sunny Seville, the fourth largest city in Spain, the aim of the development is become the go-to shopping centre for the wider metropolitan area of 1.5 million residents. The chance for success is high – there is very little competition in the area – so it is expected that the shopping and entertainment space will receive 14 million visitors per year.
The challenge
The Spanish branch of the LAR Group owns the space, with L35 architects responsible for the design and Dragados hired as building contractors. From design to construction, the energy efficiency, sustainability and circularity of the building were of top priority for LAR España. Not only was their intent to create the largest shopping centre in Spain, it should also be the most sustainable. In a city like Seville where the summer temperatures can soar into the 40s, it makes perfect business sense to create a building that stays as cool as possible in the heat and keeps the valuable air-conditioned air within the walls. Combining leisure activities – including multiple restaurants and a cinema – with shopping, the success of the Lagoh centre depends very much on visitors feeling comfortable, spending more time there and ultimately, spending money. So it was vital to create an positive and inclusive environment, with optimal thermal and acoustic comfort. And with so many visitors arriving to enjoy entertainment options and shopping, fire safety was also a key concern.
The article continues below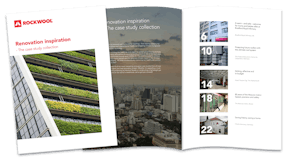 Top 10 renovation studies
We've gathered up our best renovation case studies for you to get inspired for your next project!
C
Project location
Lagoh shopping centre
Sevilla
Spain