A forward-thinking housing cooperative in the east of Germany is transforming an enormous residential complex in the most sustainable way possible. By converting the former prefab-based construction into a modern, energy efficient and comfortable space, it's serving as a great example of an environmentally friendly and waste-conscious renovation.
The challenge
In Leipzig-Grünau, the housing cooperative WBG Kontakt e.G. is actively refurbishing a large building that was initially erected in 1984 as a prefabricated slab construction. The goal of the project is to transform the space into a modern, energy efficient residential complex – and to do so within a construction period of about two years. To stay true to the sustainable focus of the project, their aim is to significantly limit the amount of construction waste to landfill.
Developed in the early 1970s by the Deutsche Bauakademie and the Technical University of Dresden, the WBS 70 housing series was the most commonly used prefabricated building system in the former GDR (East Germany). The residential complex in Leipzig is no exception. Known as 'An der Kotsche', the complex consisted of 246 flats in five WBS 70 buildings, grouped around a common inner courtyard. When the core refurbishment is complete, more than two hundred one- to five-room flats will be available for members of the housing cooperative.
The refurbishment also strives to ensure more comfort for residents by merging individual flats, optimising floor plans, adding balconies or enlarging existing balconies and creating bathrooms with windows to ensure daylight. Improving the energy efficiency of the complex is an important aspect of these enhancements – and this is where stone wool from ROCKWOOL plays a vital role.
Download our sustainability report
The article continues below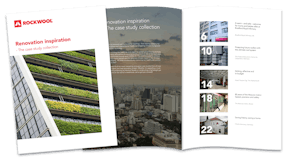 Top 10 renovation studies
We've gathered up our best renovation case studies for you to get inspired for your next project!
Leipzig, Germany
Project location
Leipzig-Grünau
Germany