The team, which competed in the first event of SailGP Season 2 with just eight weeks of preparation – and less than two days worth of racing onboard its supercharged F50 catamarans – put in a series of spirited performances during the two days of racing to finish sixth overall, as Great Britain SailGP Team took the first win of the campaign.
Following the event, Denmark SailGP Team's Nicolai Sehested – at 30 years old, the youngest helmsman in a fleet featuring some of the world's best on-water athletes, including the most successful Olympic sailor of all-time, Great Britain's Sir Ben Ainslie – admitted that he was 'positive' about the team's progress in such a short space of time.
"It was a busy but very educational first event for us," said Sehested. "Racing at this level is a big learning curve. The more time you spend in these boats, the less mistakes you make."
He added: "We're competitive and we want to win every event we take part in, but we can't beat ourselves up too much, since we've only done two days of racing so far – and some of the other teams have years of experience on these boats. We're going to go back and debrief ahead of San Francisco."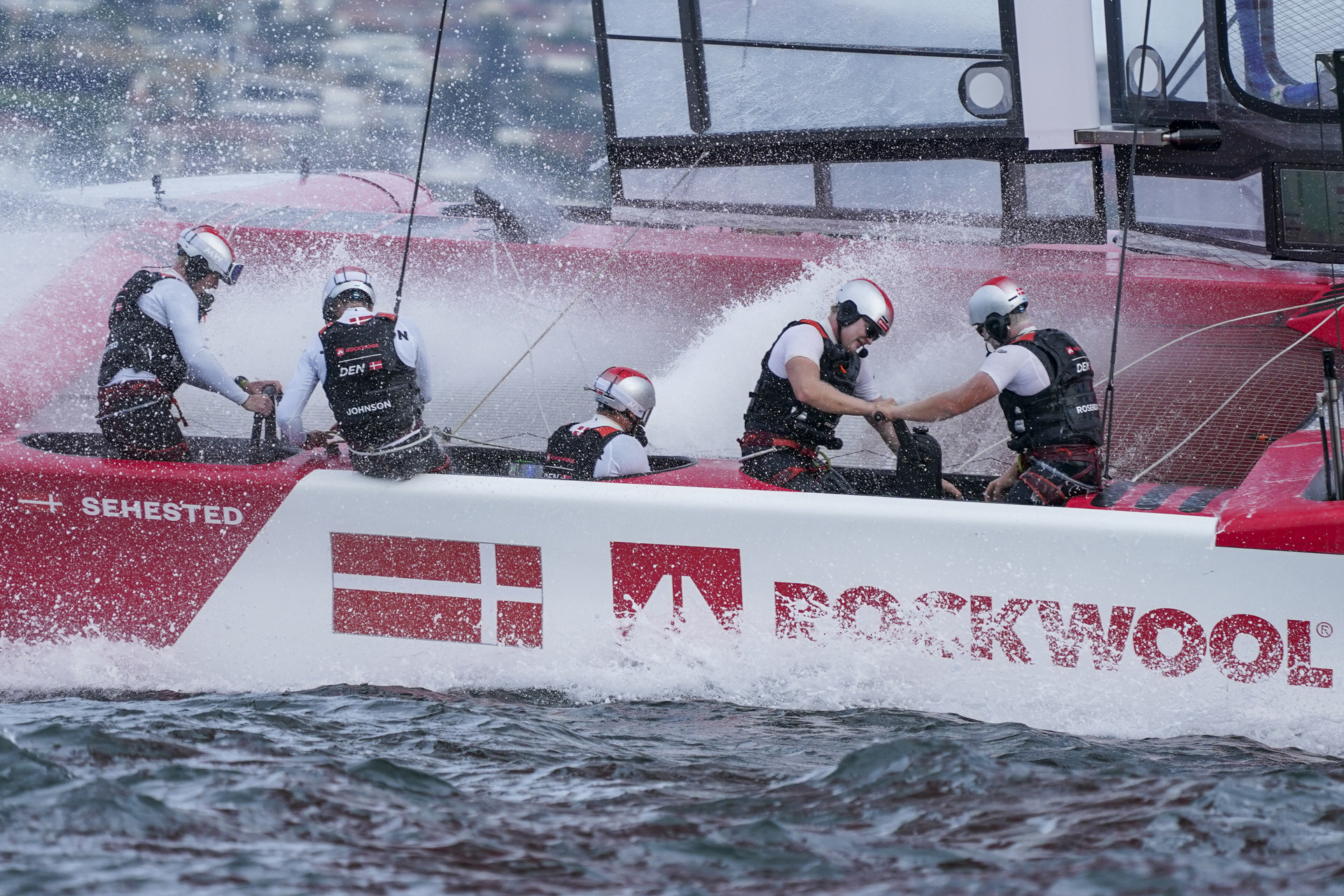 In February, the team revealed its supercharged F50 catamaran for the first time – featuring eye-catching ROCKWOOL branding and a wingsail design inspired by Danish national symbol, Holger Danske.
"It's fantastic to have ROCKWOOL behind us as we embark on this global racing series," added Sehested. "I don't think I've ever worked with a more supportive sponsor than ROCKWOOL, and we're very honoured to be representing ROCKWOOL's values."
In the five fleet races in Sydney, Denmark showed plenty of promise – battling their way up into the podium places on several occasions – but struggled to maintain those positions in the face of stiff competition from some of the world's top sailors. The Sydney results leave Denmark sitting in sixth place in the overall rankings, ahead of France SailGP Team.
"ROCKWOOL is proud to support the Denmark SailGP Team as it embarks on this hugely exciting challenge – racing against the best sailors in the sport, in some of the most iconic cities on the planet," said Mirella Vitale, Senior Vice President, Marketing and Communications at ROCKWOOL.
"SailGP provides ROCKWOOL Group a global platform to raise awareness and share our optimism around solving today's sustainability challenges, especially in urban environments."
Aside from delivering some of sport's most adrenaline-filled racing, SailGP recently announced an ambitious plan to reach zero carbon by 2025. In Sydney, the global league launched a pilot renewable energy battery system in collaboration with Tesla – a solution it hopes will act as a blueprint for other major events around the world, plus remote communities and disaster areas.
Vitale added: "In addition to the first ever Danish entry into the series, ROCKWOOL is also a proud host of the first-ever Danish SailGP event in September 2020 – bringing the fastest sailing on the planet to Copenhagen."
Great Britain SailGP Team began the season in dominant style, winning five from six races – and following the opening races, Ainslie highlighted Denmark SailGP Team presented by ROCKWOOL, as the team to watch ahead of the next event in San Francisco in May.
"It's really hard to explain just how tough these boats are to sail, but Nicolai and the Danish team have improved a lot through the racing over the last couple of days, and the training period before hand. In San Francisco, I expect them to be challenging for the top spots," said Ainslie, who won gold for Great Britain in four consecutive Olympic Games between 2000 and 2012.
The next event on the SailGP calendar will take place in San Francisco on 2-3 May, before New York (12-13 June), Cowes (14-15 August) before the landmark ROCKWOOL Copenhagen event on 11-12 September.
Denmark SailGP Team presented by ROCKWOOL results in Sydney:
Race 1: 7th
Race 2: 5th
Race 3: 6th
Race 4: 7th
Race 5: 6th
Overall SailGP Season 2 rankings after Sydney event:
Great Britain SailGP Team // 10pts
Australia SailGP Team // 9pts
Japan SailGP Team // 8pts
Spain SailGP Team // 7pts
United States SailGP Team // 6pts
Denmark SailGP Team presented by ROCKWOOL // 5pts
France SailGP Team // 4pts