ROCKWOOL Group today published its 2019 Sustainability Report detailing the company's progress towards the Sustainable Development Goals and its own sustainability goals as well as announcing an endeavour to reduce the absolute and relative intensity* of the CO2 emissions from its production in Denmark by 70 percent (compared to 1990 levels) before 2030, matching the Danish government's national target.
Since our founding more than 80 years ago, we have continuously invested in our production facilities in Denmark, resulting in an ongoing decarbonization while today providing 400 local manufacturing-related jobs at our factories in Øster Doense and Vamdrup. We have achieved this through a combination of increased energy efficiency, using less carbon-intensive fuels and investing in state-of-the-art technology.
Investments of EUR 100 million over the past 10 years in, for example, innovative fuel-flexible melting technology, mean that these factories are highly productive, create good local jobs, and are increasingly reducing their carbon emissions.
"We are eager to demonstrate that even as an energy-intensive manufacturer, we can live up to Denmark's 70 percent absolute greenhouse gas reduction commitment," says CEO Jens Birgersson. "Furthermore, by reducing the carbon intensity of our production we are safeguarding Danish manufacturing jobs."
Sustainable Development Goals: progress and performance
ROCKWOOL Group has shown significant progress on the ten selected UN Sustainable Development Goals (SDGs) during 2019 by both increasing the impact of our products and reducing the impact from operations on material issues.
Read the full report to see how ROCKWOOL performed against its own sustainability goals and the SDGs.
Highlights include:
The enormous energy and cost savings our building insulation products sold in 2019 will generate in their lifetime – equivalent to more than the total energy produced by solar panels globally in 2019 and an energy saving of EUR 77 billion (SDG 7&8).
Through the Rockfon acoustic solutions we sold in 2019, we will benefit 445,000 students with improved learning environments (SDG3).
In 2019, we also strengthened the circularity of our business by increasing by 23 percent the volumes of collected and recycled stone wool from customers and by reducing by 18 percent the waste from our operations going to landfill (SDG12).
* emissions intensity = emissions per unit produced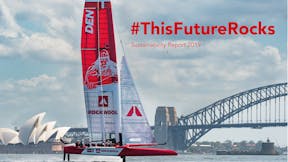 Sustainability report 2020
In our 2019 Sustainability Report you can read about our achievements, our progress against our goals and the new initiatives that we are taking to maximise our positive impact and minimise our operational impact.