Brand evolution for the global leader in sustainable stone wool solutions
New "Purpose" statement and corporate video included in the update
ROCKWOOL Group aligns its branding across its diverse product line to support its future growth
The Group's brand evolution includes a new ROCKWOOL symbol – a graphic representation of a volcano. The symbol stands for the commitment to enrich modern living through processes and products that exist harmoniously, and it will be used across all ROCKWOOL Group daughter brands.
This evolution aligns the branding of the ROCKWOOL Group's diverse product portfolio to better demonstrate to our customers and other stakeholders the breadth and depth of how we use the natural power of volcanic stone to enrich and transform modern living, while addressing the challenges of the future. It will also support ROCKWOOL's future geographical expansion.
The new corporate video will be officially launched today at 14.00 CET through a Thunderclap campaign – a large-scale scheduled social post, in which supporters share the message simultaneously to build awareness of the global challenges of modern living, and the solutions that already exist today that can go a long way towards solving them.
The new "Purpose" statement – "Release the natural power of stone to enrich modern living" – conveys that all businesses within the ROCKWOOL Group have one overarching goal: to enrich modern living by improving the life of everyone who comes in contact with our products.
The ROCKWOOL Group's stone wool products comprise a diverse range of original solutions, including fire-resilient, high-performing ROCKWOOL building insulations; Rockfon opera-standard acoustic panels; Rockpanel forward-designed external cladding; ROCKWOOL Technical Insulation custom industrial applications; Grodan substrates for abundant fresh produce with less water usage; and Lapinus mineral fibres for modern transportation, anti-vibration applications and water management solutions.
Mirella Vitale, ROCKWOOL Senior Vice President for Group Marketing, Communications & Public Affairs, comments, "I am proud of the ROCKWOOL Group's long heritage in harnessing the power of one of the world's most abundant natural resources in sustainable and innovative solutions that help solve the challenges of modern living. The updated brand identity marks an important evolution in the way we talk about our company, conveying a consistent vision and shared heritage across our diverse product portfolio's full range".
ROCKWOOL's products help people across the globe to create a more sustainable footprint and combat challenges related to increasing levels of urbanisation. Throughout the coming year, the ROCKWOOL Group will continue to focus on creating awareness on the challenges of modern living, and the solutions that already exist today that can go a long way towards solving them.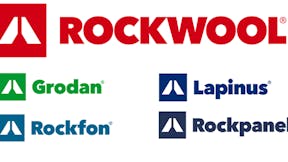 New logo for all brands in ROCKWOOL Group