The food industry and the agricultural sectors are large consumers of water, but they also play a vital role in providing food to feed the rapidly expanding global population. In the framework of this conflicting position and World Water Day, GRODAN, the global market leader in the supply of innovative and sustainable stone wool substrate solutions for horticulture, is publishing the results of a recent study into the effective use of water.
In 2050, the world will need twice the amount of food as we do today but with fewer resources available. The study is very encouraging.
Efficient water consumption: soil-based substrate versus stone wool
In the field of sustainable cultivation practice, many vegetables are grown on substrates made from natural stone wool instead of soil-based substrates. Such alternatives are used in virtually all commercial greenhouses in the Netherlands.
The study reveals that soil-based cultivation systems have considerably higher water consumption, namely 50 – 100%. In soil not all of the water reaches the root zone, so this can quickly lead to excessive irrigation. This is not the case with stone wool substrates. Here excess water can be easily re-used resulting in far more efficient water consumption, according to the recent results. At least 50% less water is required. In addition, innovative irrigation technology enables water use in stone wool substrates to be measured and regulated. Growers know precisely how much water a plant growing in stone wool needs and can therefore avoid excessive irrigation.
The study concludes by stating that higher yields using less water can be achieved on stone wool substrates. The volume of water needed to produce one kilo of tomatoes on a soil-based substrate is higher than on a stone wool substrate. The difference is often a factor of two or more. So, if the rest of the world embraces the GRODAN system of cultivation on stone wool substrates, more than double the amount of vegetables can be produced.
Sustainable cultivation on alternative growing media
The GRODAN company is the global market leader in the supply of stone wool substrate solutions and actively contributes to increasing the sustainability of production processes in commercial horticulture. These solutions are mainly used in the cultivation of vegetables and flowers.
GRODAN stone wool is made from a natural volcanic rock called basalt. The huge advantage of growing on stone wool is that water and nutrients are used for the complete benefit of the plant and are not wasted in any way. Excess water can be collected and reused, as stone wool is a clean nutrient medium. The results of the study reveal that re-use results in water consumption savings of 21%. Other advantages of stone wool substrates are:
Plants produce more fruits of higher quality per square metre.
The stone wool substrate is renewed every season, which considerably reduces the risk of diseases and allows growers to start each growing season with a clean slate.
Stone wool substrate is recycled by the GRODAN company into a raw material for the production of bricks.
This form of sustainable growing, GRODAN Precision Growing, focusses on using minimum input materials to generate maximum output, while respecting people and the planet.
This is positive news to share on World Water Day; our planet is currently facing many challenges, but together we are also implementing increasingly more solutions.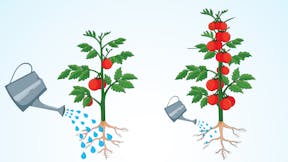 Plant more use less water
In the field of sustainable cultivation practice, many vegetables are grown on substrates made from natural stone wool instead of soil-based substrates.Such alternatives are used in virtually all commercial greenhouses in the Netherlands. The study reveals that soil-based cultivation systems have considerably higher water consumption, namely 50 – 100%. In soil not all of the water reaches the root zone, so this can quickly lead to excessive irrigation,
Further information
Communications Manager, Marketing Grodan
Stefanie Wienhoven
Mobile:
Email: stefanie.wienhoven@grodan.com