Energy performance gets a facelift
Improvements to energy efficiency put an end to fuel poverty for residents
Dating back to the 1960's, the Avebury Estate in Tower Hamlets fell short of modern standards for insulation and safety.
Energy costs were putting a financial strain on occupants of the development, which consists of nineteen 4-storey blocks (around 300 homes). The required renovation work included the improvement of thermal performance to meet modern building regulation requirements, as well as achieving fire safety values – both essential for a high-rise building.
The challenge was to renovate in a sympathetic style to surrounding buildings, while at the same time, improving the aesthetics of the estate.
Breyer Group, the specifiers working on behalf of Tower Hamlet Homes, chose ROCKWOOL REDArt for its insulation, climate protection and beautiful finish; plus BrickShield, the wall cladding system with a real brick finish. Together they give each building an energy-efficient external envelope and A1 fire safety: future-proofing the building and providing high levels of safety for the occupants.
The finish of the rendering system also delivered the promised uplift in aesthetics for Breyer, and created a building residents are proud of.
Since proper insulation can reduce household energy needs by 70%1, the occupants of Tower Hamlets now live in a more energy-efficient, comfortable, safe and attractive environment. This will alleviate issues of fuel poverty over the long term and result in more affordable living for all residents. And the long-lasting technical insulation and cladding will ensure the building remains that way for many years.
1Source: JRC, 2016. Synthesis Report on the National Plans for Nearly Zero Energy Buildings (NZEBs)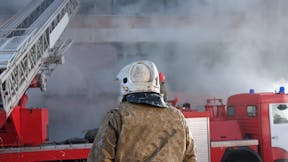 London, UK
Project location
Avebury Estate
Tower Hamlets
London