When did we open our manufacturing facility?
When ROCKWOOL (then ROXUL (West) Inc.) opened the manufacturing facility in Grand Forks, British Columbia in November of 1999, it was our second stone wool operation in North America. This operation has enabled the organization to service markets on the west coast.
The fit between the values of this small community and ROCKWOOL, which was founded as a family business more than 80 years ago, has been evident since the very beginning.
Our 950,000-square-foot facility, located on Industrial Park Way, was purchased as a brownfield site from Enertek Product International. Brownfield meaning that the land was formerly developed for industrial purposes.
Since that time ROCKWOOL Grand Forks, BC has expanded, with a 2011 acquisition of a closed particle plant that has been converted into warehousing, and $55M worth of investments into upgrading the production line and installing the latest environmental monitoring and control technologies.
We're proud to say that in 2019, we are celebrating 20 years of operations in Grand Forks. We look forward to continuing our track record of environmental responsibility and making a positive and meaningful impact in the community.
For a detailed look at what it means to have ROCKWOOL in your community, we created a Community Brochure. It covers everything from how our manufacturing facilities operate to working at ROCKWOOL and our social responsibility efforts to support local programs and causes.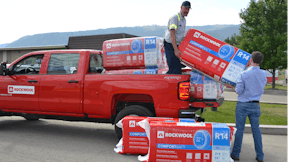 Supporting the local community and environment
We're passionate about protecting the environment and actively investing in infrastructure and programs that support the wellbeing and prosperity of people. Watch the videos below to learn more!