Doing business with ROCKWOOL
At ROCKWOOL, we've been in operation for more than 80 years globally and more than 30 years in North America.
We are interested in learning about your business and how you think you can support our operations. Whether you're a new and innovative organization or a business that has been around for many years, we work with many licensed suppliers and contractors within each of the areas in which we operate.
Across our North American markets of Milton, Ontario, Grand Forks, British Columbia, and Byhalia, Mississippi, we have established mutual trust and partnership with full-time and seasonal partners. We build relationships with providers who align with our company's environmental and safety commitments and who consistently provide the best value.
When you think about building material manufacturing, you might picture our line operators, warehouse workers, and industrial engineers, but there's so much more. Those workers are one very important part of the equation, but it takes a team of employees alongside a reliable and high-quality supplier network to ensure the operations of our manufacturing plants.
We also have our corporate head office which requires the support of outside suppliers to maintain the facility to keep it running smoothly.
Don't have time to read the full page right now? No problem. For your convenience, you can download a PDF version of our Doing Business with ROCKWOOL fact sheet and get the information you need.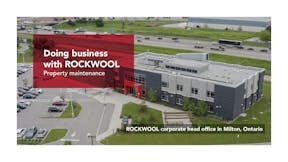 Code of conduct for suppliers
The ROCKWOOL Group expects suppliers, their employees and sub-contractors to comply with all international, national and local laws and standards relating to employment, environmental, purchasing and manufacturing practices.

We also require a commitment to uphold the principles in our Code of Conduct for Suppliers. All suppliers must be fully licensed and insured in order to be considered for any of our service areas.