A history of strength and perseverance
Grand Forks, a city today of 4,050 residents in a valley within the interior of British Columbia and located at the joining of the Granby and Kettle Rivers has a rich history of perseverance. Dating back to its founding when gold and copper mining dominated the Boundary and Kootenay regions of BC within which the City is located, Grand Forks twice had its downtown core leveled due to fires.
ROCKWOOL (then ROXUL (West) Inc.) arrived in Grand Forks in November of 1999 with the purchase of the factory from Enertek Product International. The factory was formerly operated by Pacific Enercon Inc. and Bradford Insulation, two companies that had made investments into modern equipment over the years including an electric melter, and our arrival has resulted in further upgrades into the facility, growing our North American presence to service markets on the west coast.
The Grand Forks 2018 Flood
On May 10, 2018, residents of Grand Forks witnessed what was the outcome of a 100-year flood event.
Record snowfall during the winter of 2017-18 in western Canada led to 238 percent more snowpack in the mountains than during an average season. This was followed by a period of temperatures that exceeded 30°C in April and a rainy May with more than 60 mm of precipitation. The combination of these factors triggered melting conditions that put more pressure on both the Kettle and Granby Rivers than they could handle, which resulted in the most severe flooding in Grand Forks since 1948.
By the time the water reached its peak, 2,800 people were displaced from their homes in the Boundary Area, with 380 homes evacuated in Grand Forks including those of ROCKWOOL employees.
This is an experience that will never be forgotten.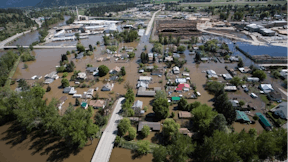 News coverage
The historic nature of the Grand Forks, BC flood led to local, provincial, and national news coverage.