Working at ROCKWOOL
We are a market-leading global company with a proud 80-year history of creating well-paying jobs and being recognized as a top employer. At ROCKWOOL, we believe our success is built on a foundation of teamwork and that all employees excel when we create an atmosphere of trust, respect, communication, and support.
We are committed to West Virginia for the long-term, bringing job stability and security to workers employed at our new Ranson, West Virginia facility. In Ranson, at full production we will employ at least 150 people locally with approximately 80 percent of those positions in technician roles supporting the production line and 20 percent in leadership roles. Baseline salaries for these jobs will range from $38,000-$62,000 for technicians, $65,000- $90,000 for mechanics and electricians (skilled maintenance positions), and an average $100,000 per year for leadership and management positions.
In addition to the competitive base salary, all employees receive excellent benefits including health, dental, and vision coverage (of which the company pays up to 80 percent of the premium), as well as disability and life insurance. Employees can elect to receive coverage for their spouse and dependents. We are proud to offer a well-rounded benefits package which includes two-three weeks of paid vacation and a 401K matched up to six percent by ROCKWOOL. In total, the benefits package has a value of about $18,500.
ROCKWOOL provides access to courses, apprenticeships, and a range of in-house and online training programs and resources to support skills development and employee advancement. This allows entry-level staff, for example, to be strongly positioned for growth, and with excellent performance on the job, they may be eligible for promotions after just one-two years.
We also provide multiple programs as part of our commitment to long-term security of our employees, including:
A hybrid vehicle incentive program
Fitness reimbursement
Education reimbursement via generous tuition subsidies for job-related courses
Mentoring program (employees are eligible to participate after one year of service)
Employee product purchase program
Uniform program
Looking for more information about meaningful career opportunities with our team in Ranson? Download our Working at ROCKWOOL Fact Sheet.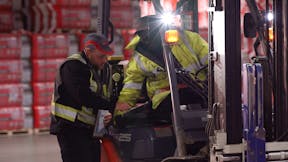 Our Ranson, West Virginia manufacturing plant is hiring
We're offering workers the opportunity to build meaningful careers that make a difference in the world. To us, every employee is instrumental in manufacturing a product that is used worldwide to create safe and more sustainable living environments. Click any of the links below to hear directly from our employees on their experiences working at ROCKWOOL.