Utilising the calculation principles of BS EN ISO 12241:1998- Thermal insulation for building equipment and industrial installations, Rock-EQ allows users to enter project specific information to determine the optimum thickness of ROCKWOOL HVAC insulation solutions.
Designed for mechanical engineers, consultants, designers and insulation installers, the online calculator allows for specific site conditions to be accounted for, covering common HVAC applications:
Condensation control
Heat gain
Heat loss
Personnel protection
Protection against freezing
Rock-EQ includes data for standard pipe sizes, equipment materials and common claddings already built-in for ease of use, but also enables users to input specific data.
For projects, Rock-EQ provides the additional option to calculate material and installation costs providing a budget overview for the specific insulation works, generating a comprehensive report of the results for your records.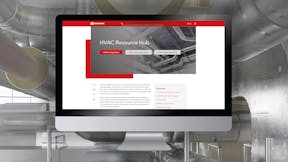 HVAC Resource Hub
To support you in specifying and installing ROCKWOOL HVAC products, access our suite of resources suitable for all HVAC professionals.