Welcome to the Installers portal
Whether you're working on a loft conversion, extension or change of use project, we're here to keep it simple. Alongside our range of cost-effective, easy-to-fit stone wool insulation products that are purpose designed for the trade, we've created a heap of handy tools to make your life easier.
From straight-to-the-point installation guides and advice on how to reduce your customers energy bills, to tips on why stone wool is the best choice for your customers, you'll find all you need to keep clients happy and your business profitable.
To help you work with confidence and efficiency, our website also breaks down building regulations for fire, thermal and acoustics for an easier route to compliance, and our up-to-date stockist finder means you can find your local ROCKWOOL supplier wherever you're working.
Useful resources:
☆ Useful Tip ☆
Bookmark this page for quick and easy access to relevant and always updated installer resources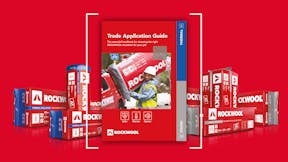 Made for the Trade...
The ROCKWOOL Trade Application Guide is here, helping you to choose the right product for every job.. With everything you'll need to know, from product information, compliance criteria and installation advice, this is the must-have manual for working with stone wool.