Charlie West is a prominent residential condominium located in the heart of downtown Kitchener.  It reflects the vibrancy, style, culture and progressive evolution of Kitchener-Waterloo.
Charlie West's coveted location places residents right at gates of Victoria Park, directly on the new ION Light Rail transit route. It's just a short walk from Google Canada's new office and Kitchener's Innovation District. It's modern, glass design, reaching 26 stories with 245 suites, creates a prominent silhouette in Kitchener's skyline and cements its standing as one of the city's tallest buildings. Charlie West was jointly developed by Zehr Group and Momentum Developments (officially the Momentum Partnership).
From the outset, the developers knew that they wanted the hallmark of Charlie West to be quality, recognizing that purchasers were not just buying a residence or location, but a lifestyle. The top three floors of Charlie West feature the McGillivray collection of suites—featuring unique open floor plans, 10-ft. ceilings and a curated selection of upgrades that have been carefully chosen by celebrated real estate expert and TV personality, Scott McGillivray, to create the perfect balance between upscale condo living and long-term resale value. Top of mind was how occupants will experience their space, with comfort and luxury key features.
The Goal: Fire Protection, Moisture Control, Sound Dampening & Energy Efficiency
Because of its height as one of the tallest buildings in the city and with quality a major cornerstone, fire protection was a primary consideration when choosing insulation for the exterior wall system. Occupant comfort was also paramount, and the suites were designed to create an optimum indoor environment. To that end, thermal performance and sound dampening, were added to the list of goals. The developers also sought to create a building that was not only attractive, but that would be durable over the long term.
The Challenge
Finding an insulation solution that met a myriad of design and performance objectives was important to Zehr Group and Momentum Developments. They also preferred to work with products that had a favourable sustainability profile and that could contribute to a quick and easy install, keeping the project on time and on budget.
The Solution
From the outset, the building envelope was a primary focus, with careful attention paid to building material selection. Cavityrock® stone wool insulation was specified to create a continuous layer of insulation around the exterior of the building because of its ability to help achieve a more efficient, resilient, and durable building that can stand the test of time and conditions. With more extreme weather a reality in Southern Ontario, the developers recognized that climate change necessitates building for greater durability in the face of harsher weather conditions. In Southern Ontario, that includes decades of hot, humid summers and cold winters, where temperatures can reach highs of +30°C or lows of -30°C. With storm activity increasing and intensifying, good moisture control is a must. Cavityrock® was appealing since it is vapor open and offers high drying potential. A dry building helps ensure stable R-values and reduces the potential for moisture damage that can result in costly remediation.
ROCKWOOL Cavityrock® stone wool insulation will also help satisfy the desire for a more energy efficient building, reducing demands on the building's mechanical heating and cooling systems, as well as lowering energy consumption and the building's carbon footprint. What that means for residents is greater indoor comfort and more stable temperatures, no matter what the conditions outside.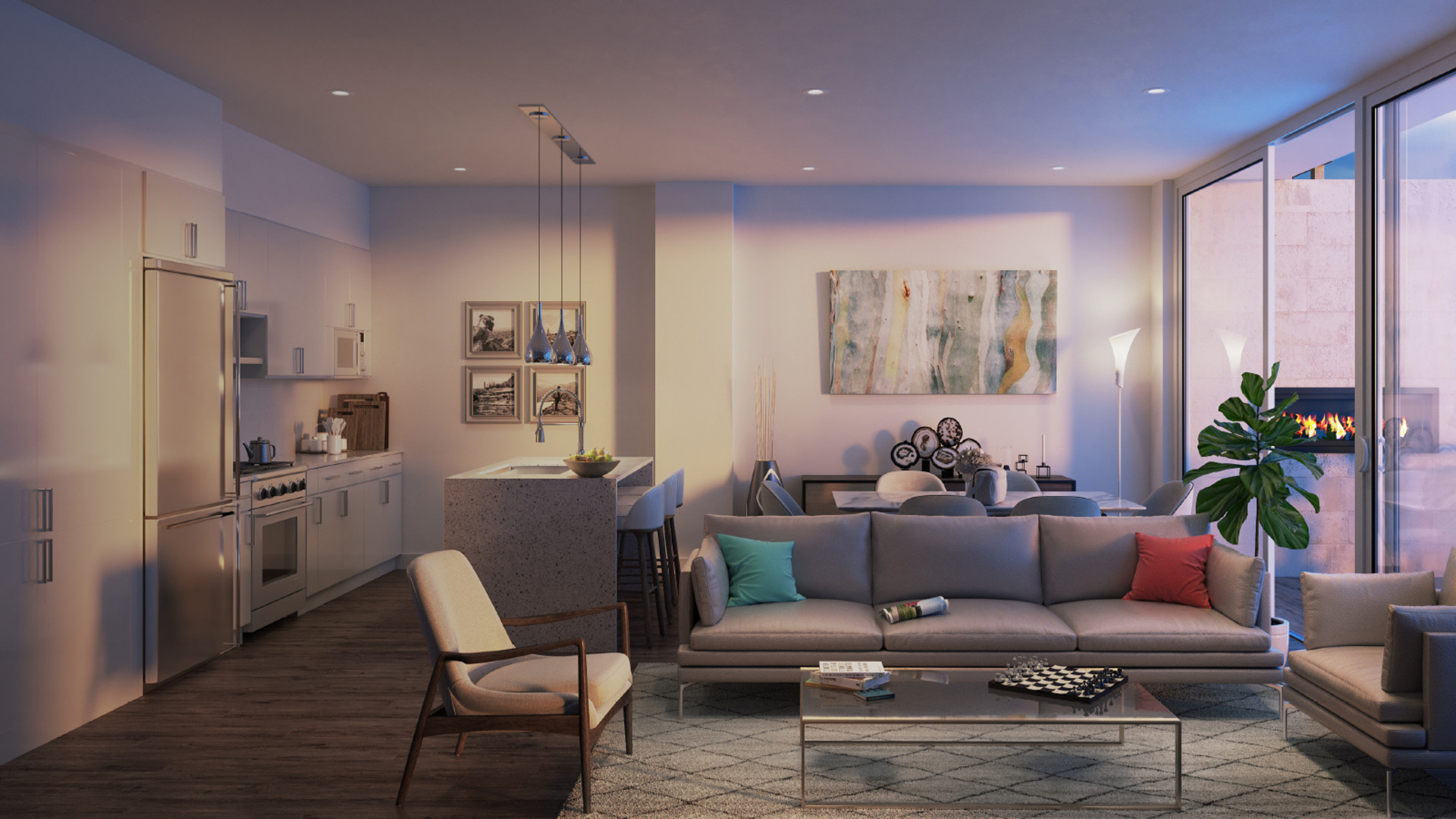 What happens outside has an impact on what residents experience inside, with noise a primary concern. This will only increase in the years ahead with intensifying urban development and higher density construction expected in the area. Charlie West is located next to Kitchener's innovation district, within walking distance of the light rail system, and there's no questions the city will grow up around it. Cavityrock® helped create a buffer that effectively futureproofs the building against noise now and in the years to come. The product's density and non-directional fiber structure contribute to excellent sound dampening properties, which in turn helped achieve the desired OITC rating and a more peaceful, tranquil indoor experience.
Overall, Zehr Group and Momentum Developments wanted to take a proactive approach to fire safety. As such, ROCKWOOL stone wool was the only insulation considered for the exterior walls, thanks to its non-combustible nature and fire-resistive properties. Stone wool's ability to inhibit flame spread and not contribute to smoke or harmful gases in the event of a fire, while resisting temperatures up to 1,177°C or 2,150°F, proved best-in-class—important for a highrise residential tower.
As a distinct and prominent building in Kitchener's skyline, aesthetics were integral to the design of Charlie West. The chosen insulation and the wall system design would have to work seamlessly with its sleek façade and sophisticated matte black metal cladding. Opting for Cavityrock® meant no need to compromise on the building's design vision. The product's compatibility with other components and wide range of cladding and attachment systems was a solid advantage, but even more so was the Cavityrock's ability to conform to minor variations and irregularities on the surface of the façade, ultimately ensuring a more uniform surface and easier install of the metal cladding. The installer noted Cavityrock's handleability, density, and simplicity to cut and custom fit, as well as its excellent dimensional stability as coveted product features, allowing for tight seams and joints that will contribute to efficiency, reduction in heat loss, and better overall performance.
In marketing the building, the developers were keenly aware of consumer sentiments. Buyers increasingly favor buildings that consider the future—projects that are not only top notch but built making choices that consider the environment and support climate action, whenever possible. This brings material selection to the forefront. Stone wool insulation delivered here, too, as a sustainable and responsible product made with natural and recycled materials.
Given the attention to all facets of the building, and the quality from all angles—including building materials, features, finishes, and careful thought to residents' quality of life, Charlie West is a prime example of everything that a building can be. With ROCKWOOL stone wool behind the façade and inside the walls, residents can have confidence that their homes at Charlie West will be durable, safe, comfortable, quiet, and efficient—a true retreat from the world around them.