New York City has set some of the most aggressive targets for reduction of greenhouse gas emissions in the world. Its buildings, both commercial and residential, contribute to nearly 70 percent of the city's carbon emissions.
The Climate Mobilization Act of 2019 includes several bills that target buildings greater than 25,000 square feet as they are responsible for 30 percent of those emissions; the legislation mandates a 40 percent reduction by 2030 from a 2005 baseline, and an 80 percent reduction by 2050. Energy retrofits to many of these buildings are already underway. The 2030 targets will be manageable for most building owners with modest modifications; meeting the 2050 targets will require more extensive renovation. And while past Passive House projects in NYC have been effective in reaching the second tier of the legislation's goal well ahead of schedule, the challenge remains in completing such massive energy retrofits in multi-family buildings without displacing residents. This is especially true for heritage buildings with façades to preserve, where an interior retrofit of the enclosure is often the only possibility.
One recent project on Albemarle Road in NYC is providing a roadmap for other historic buildings of its kind to model.
Project Overview
The 83-unit, 6-story co-op building on Albemarle Road in Brooklyn is typical of others in the area. Built in 1938, it has an original brick façade that adds to its historic charm. It has steam heat, window AC units and no mechanical ventilation. The co-op owns 29 rental units in the building which are typically renovated when there is a change in tenancy. This particular unit is owned by a Passive House enthusiast; he planned an aggressive energy retrofit of the recently vacated corner apartment before taking possession, in part to show what will be possible with buildings like theirs for others to model. Though this single unit renovation is not eligible for Passive House certification, the architect and construction teams used Passive House targets to guide this retrofit.
The Goal
Efficiency, sustainability, and occupant wellness were primary considerations for the apartment's renovation plan, and in order to comply with Local Law 97. Adhering to Passive House standards was a key objective for the project, all while maintaining the historic integrity of the building as a whole.
The Challenge
Older buildings like this one on Albemarle Road frequently present a challenge when the goal is to improve the apartment's envelope. Preserving the original brick façade was critical in maintaining the building's historic integrity and charm but changing the interior wall assembly in order to improve thermal efficiency could significantly modify the hygrothermal behavior (the movement of heat and moisture) of the existing structure. As originally built, these uninsulated brick walls would dry after wetting, due to the rain for instance, in part from the heat loss of the apartment. The addition of interior insulation would reduce that heat transfer, leaving the brick or other masonry with higher moisture levels for longer periods of time. It was also important, therefore, to use strategies and materials that would not damage the original structure on the dwelling's interior.
The Solutions
The construction crew began by stripping the old interior walls right down to the exterior brick. It was carefully inspected for cracks or other damage, and then prepared for the new enclosure system by applying a vapor-permeable liquid-applied water-resistive barrier to make the wall water- and airtight.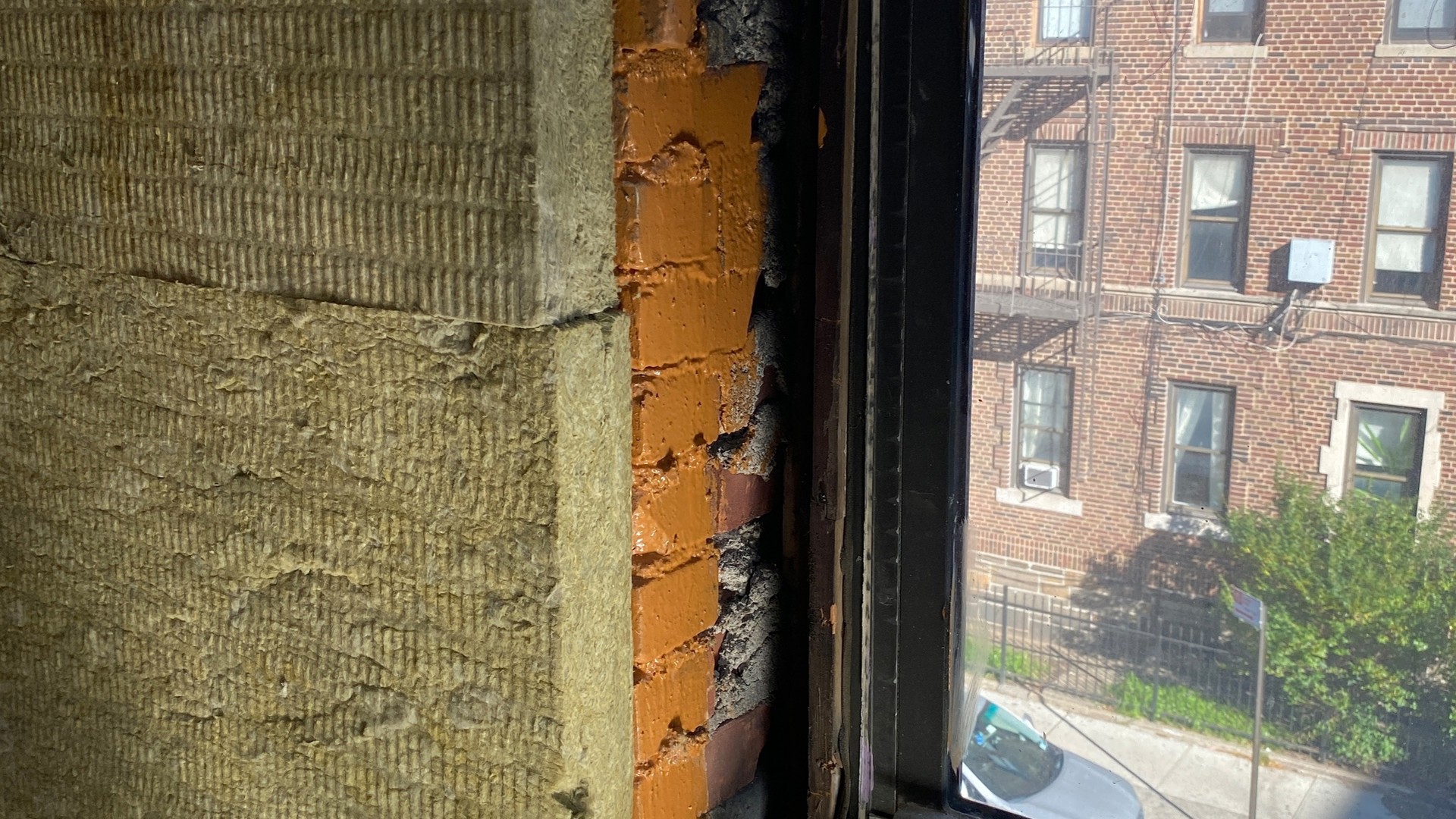 ROCKWOOL stone wool insulation products were specified for several different applications in the retrofit, mainly because they are non-combustible but also for their vapor-permeable nature. These features were especially important because of the moisture challenges presented by the old brick façade. The crew applied a layer of continuous insulation using Cavityrock®, then a smart membrane, installed as a secondary air barrier, and then framing using metal studs; metal studs allowed for a narrower finished assembly to minimize the loss of space inside the home but still allowed space for running electrical wiring, etc. One and a half inches of ROCKWOOL AFB® semi-rigid cavity wall insulation was installed between the studs before the walls were finished with drywall. ROCKWOOL Comfortbatt was also installed in the floors and ceilings to add additional thermal comfort as well as protection from fire and sound transmission between units.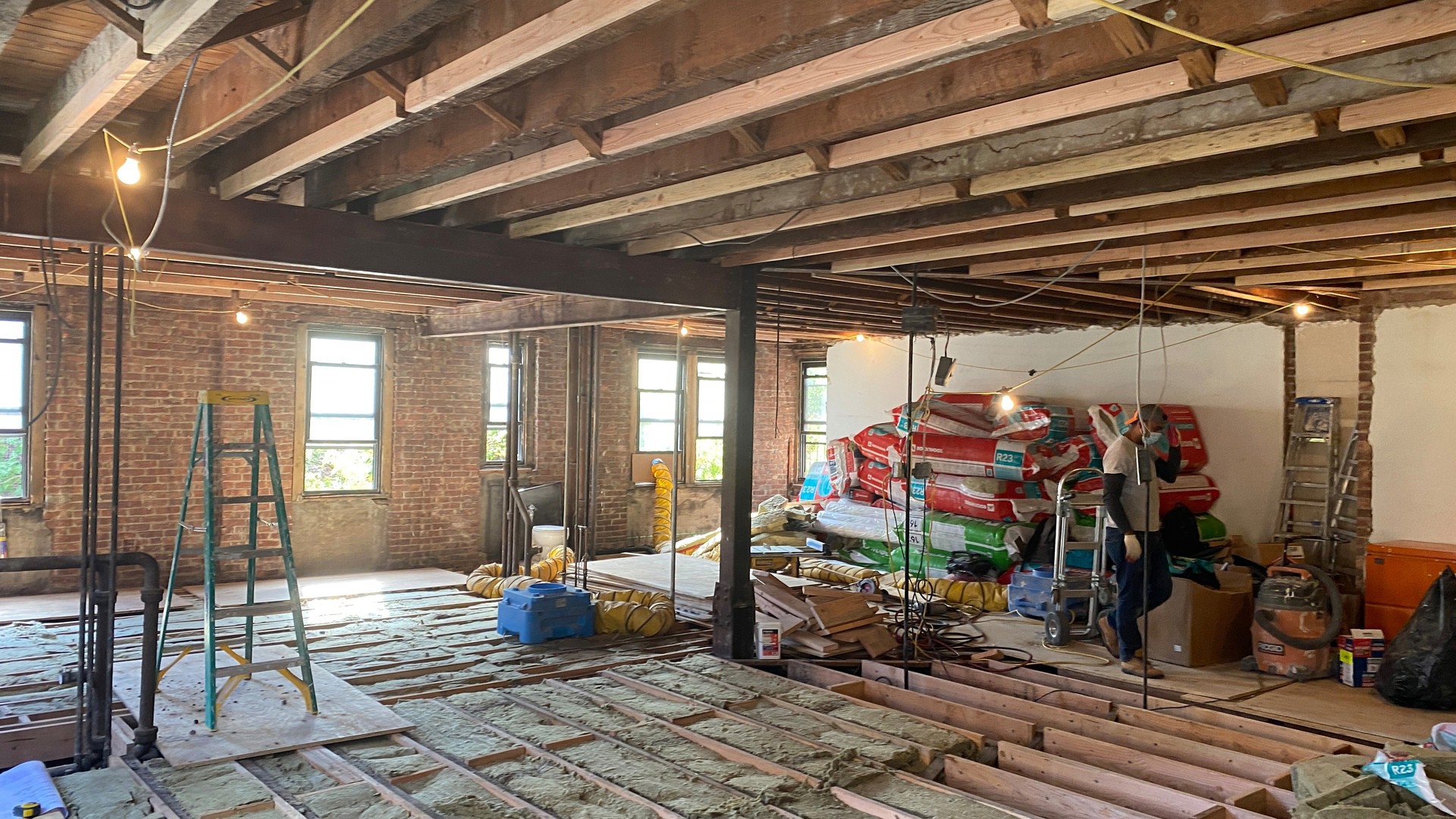 Choosing ROCKWOOL's stone wool products for each insulation application means that the residents of the newly renovated apartment on Albemarle will have greater piece of mind knowing their space is comfortable, energy efficient, quiet, and safer in the event of a fire. The neighboring units will benefit as well from the sound and fire protective features of the ROCKWOOL stone wool products. And the water-repellent properties of stone wool mean that there is less risk from water damage or mold. The durability of the insulation means that these older buildings can continue standing for generations to come without needing thermal improvements or upgrades. And last but not least, the thermal efficiency provided by the installation of ROCKWOOL stone wool insulation products also meant that the team was able to install a much smaller mechanical unit to support the new HVAC system, requiring less disruption to the footprint of the building.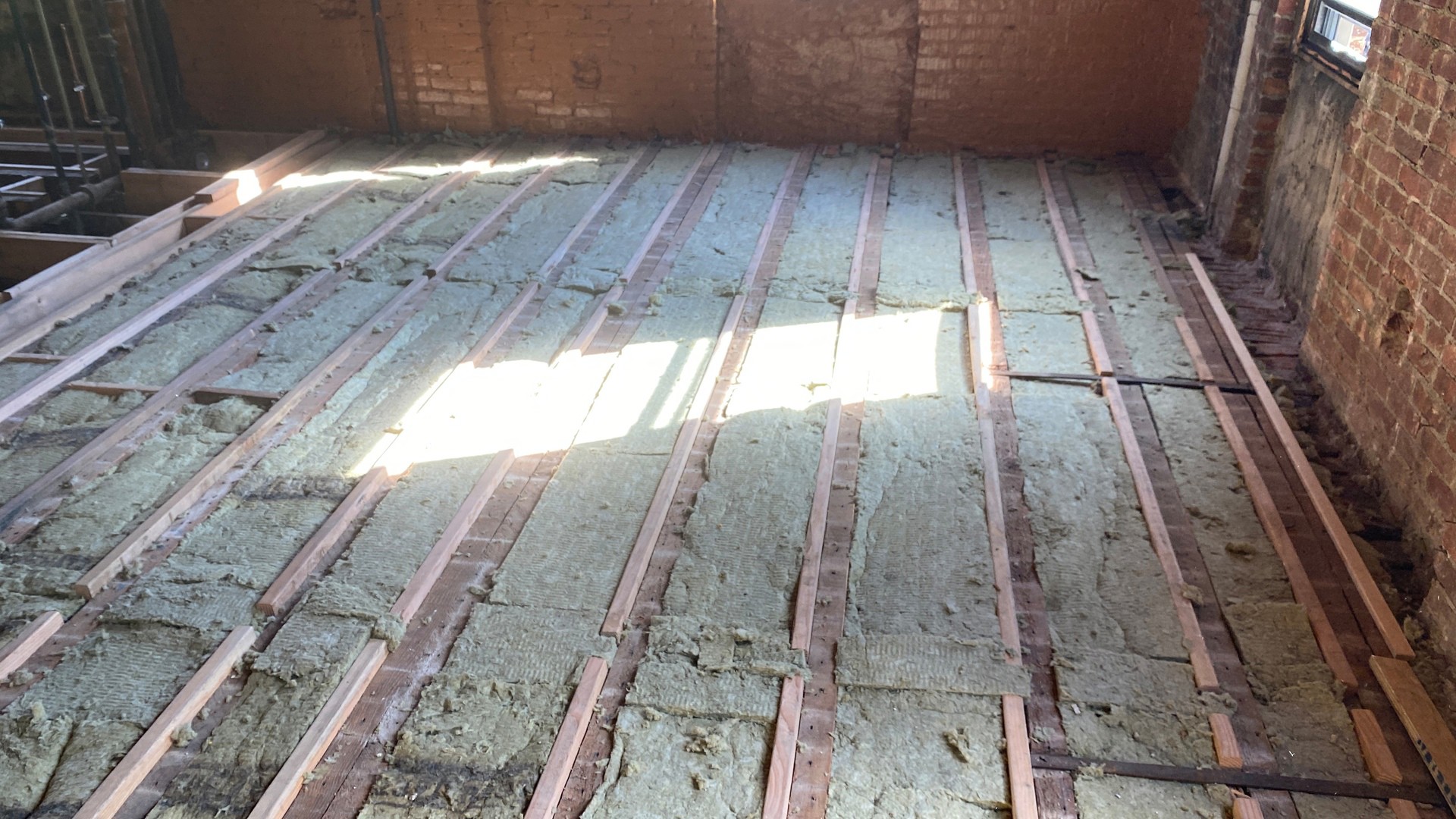 The Albemarle project is a perfect example for other architects, contractors, building owners and residents of New York City—or any other urban center looking to reduce its carbon emissions—in what is possible with a unit-by-unit approach to applying Passive House standards to retrofits like this. The compartmentalization of retrofits in multi-family buildings is a reasonable and effective solution for meeting aggressive carbon reduction targets.