Why do we need acoustics?
Acoustics affects everyone on a daily basis – from homeowners, office workers, students and hospital patients, to professionals working in the design and construction industries. Therefore, knowing the basics of architectural acoustics and the meaning of acoustical design and construction is essential; terms like sound transmission class (STC) and noise reduction coefficient (NRC) are only the beginning.
This is the first in a series of articles developed to establish a foundation of understanding in building acoustics. Let's dive in!
Why acoustics matter in homes and buildings
Constructing new buildings – be they homes, schools, office towers or industrial workplaces – has become an increasingly sophisticated exercise. We know more today than ever before about the importance of building structures that are energy-efficient, safe and comfortable for occupants. Creating these high-performance buildings begins at the planning stage with design professionals and technical experts who consider all the factors that go into making spaces perform as they are intended – whether optimizing productivity for office workers, quiet recovery areas for patients, good acoustics in learning environments for students, or any number of other examples to bring the acoustical properties of a space in line with its intended use.
One of the factors that often gets overlooked at the planning stage is acoustics, yet the acoustic environment of a building can have a significant impact on the occupants' experiences. For example, research has established that sound can negatively affect health and recovery periods in hospitals. Design trends that are driving the creation of open workspaces for collaboration may also have the effect of decreasing privacy and productivity. Construction practices and products selected to meet sustainability goals may, at times, inadvertently sacrifice the ability of a space to deliver occupant comfort by decreasing unwanted noise.
Considering the acoustic needs of a building at the start of the planning process can help save time and money by reducing the need for renovations or retrofits once construction is completed. Within this acoustics article series, we focus on rethinking the role of acoustical design and engineering. Increasing awareness and understanding of acoustics among industry professionals, including architects and designers, building owners, as well as the general population, will only help drive this shift. Occupants of these high-performance buildings will continue to demand that sound be a key consideration in new construction.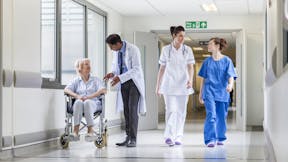 Resources
The fundamentals of acoustics includes designing for an stc rating or nrc rating that's right for your building segment.