A sustainable production process
We understand that manufacturing any product requires using resources, but we are focused on our processes leaving the smallest footprint possible. That's why we continuously work to improve the sustainability of our operations including investments in the latest production and abatement technologies.
Throughout our supply chain – beginning with raw materials – we work with responsible and transparent suppliers that follow our Code of Conduct. We have adopted the International Chamber of Commerce (ICC) Business Charter for Sustainable Development, where suppliers are required to ensure their own suppliers also meet the same standards including compliance with all international, national, and local laws and standards relating to environmental and manufacturing practices.
At our production facilities, we have developed ways to recycle waste from construction and demolition sites by using it as a substitute for virgin raw materials. This helps divert waste that would have otherwise ended up in a landfill.
Stone wool, which is the end solution that we create, is also fully recyclable and can be recycled repeatedly without degrading its quality. Our production process has also been designed for zero production wastewater discharge to the environment. In fact, no production process wastewater is discharged into waterways or the ground at any of our ROCKWOOL manufacturing facilities.
In addition, because of the nature of our industry, our facilities are subject to strict air quality regulations that are in place to protect sensitive populations such as children, the elderly, and asthmatics. In the United States, stone wool manufacturing is strictly regulated by federal standards set by the EPA.
These standards, known as the Maximum Achievable Control Technology (MACT) standards, were most recently updated in 2015 with direct input from the Sierra Club. Even under worst-case conditions, ROCKWOOL's emissions will be well under these strict limits.
Our Ranson, WV facility will meet and exceed environmental protection standards set by governments and regulators. We're using best available emission controls to maintain air quality, protect local water systems, and mitigate excessive noise. To learn more, visit our environment page.
In agreement with the Jefferson County Board of Education, ROCKWOOL retained an independent environmental consulting firm, ERM, to procure, install, operate, and maintain air monitors at two locations – North Jefferson Elementary School and TA Lowery Elementary School. View current conditions and air quality index results for the past 48 hours at both locations for fine particulate matter (PM2.5), formaldehyde, nitrogen dioxide (NO2), and sulfur dioxide (SO2) by visiting our public air monitoring website. View local conditions
Each of our manufacturing facilities is focused on minimizing our impact on their environment. We deliver on this through regular internal audits, independent external audits, and a commitment to several United Nations Sustainable Development Goals (SDGs). In 2016 we made substantial commitments to our environmental and safety performance including the "minimizing operational impacts" initiatives. Those sustainability goals, as well as the carbon emissions saved over the lifetime of our building insulation, are outlined below.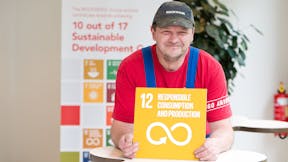 Resources
Find out more about ROCKWOOL's commitment to reducing emissions in the production of stone wool insulation.